Track Attack is a festival of speed where you will be able to race on our 1.6 mile road course and a 1.2 mile rally cross course all in the same day. We would like to encourage drivers at all skill levels to come out and hone their skills on our two very challenging courses. The Facility will be open all day and you will be able to jump from rally to road course and vice versa if you wish.
The road course is a 1.6 mile professional race track with elevation changes and many challenging corners. The track has many fast straights and also some tight corners that will test your braking points and racing lines. The road course will not be run as a race and passing is not allowed. The drivers will be grouped in similar car types and skill levels to assure that everyone will get a clear track to race on.
The RallyX portion will be run as our regular RallyX Racing Series has run for the last two events. There is no change to the format. The only difference is that there will be cars on the road course at the same time as the rally event. The added bonus of this is that you can race on the road course and on the rally course in the same day. The timing and scoring will only be done for the RallyX drivers after lunch like normal.
For more information on the RallyX Racing Series then follow this link RallyX Link
Track Attack Schedule
7:30 AM Gates Open*
8:00 AM – 8:30 AM Vehicle Tech
8:30 AM Mandatory Drivers Meeting
9:00 AM – 11:55 AM Track Open.
12: PM – 1:00 PM Track Closed for Lunch
1:00 PM – 4:00 PM Track Open
5:00 PM Gates Closed
*The schedule is subject to change. The FIRM may suspend or cancel operations if severe weather is in the area.
Track Layout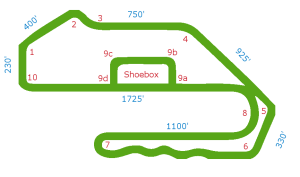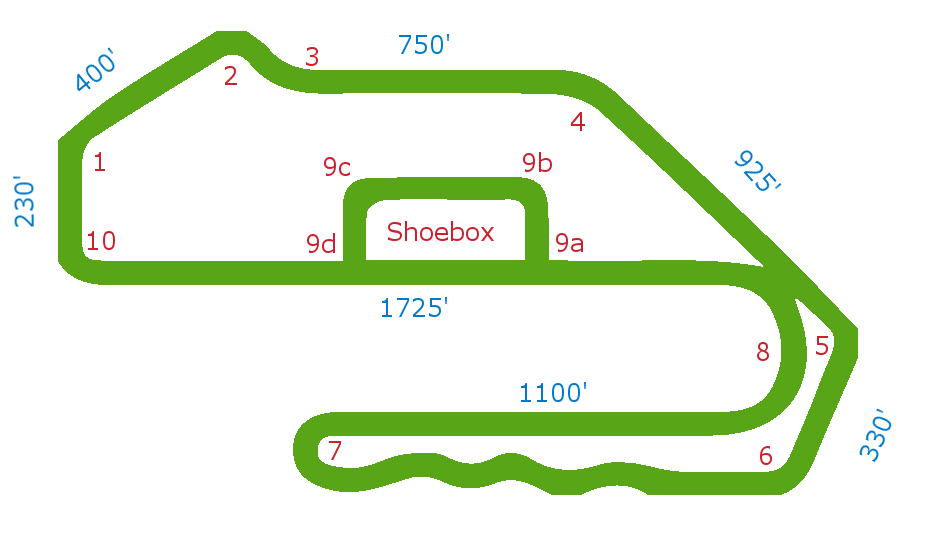 Technical Inspection Form

NOTE THAT SA-2005 OR NEWER MOTORSPORTS HELMET IS REQUIRED FOR ALL ROAD COURSE DRIVERS. We do not allow SNELL, DOT or M-rated helmets. If you do not have a proper SA-2005 or later helmet you will not be allowed on track.
Planning Information
Entry is PER DRIVER, not per car. Each driver must register and pay individually. Pre-registration is strongly recommended.
All drivers *MUST* attend the mandatory drivers meeting. If you fail to attend the drivers meeting, you may not be allowed on track. Drivers missing the driver's meeting may be treated at "no shows".
Drivers must wear helmet and seat belts at all times when on the track
SA-2005 or newer motorsports helmet is REQUIRED for all car drivers
Long pants and closed toed shoes are required
CONVERTIBLES ARE NOT ALLOWED unless they have proper roll over protection (bar or cage)
Tech Inspection required by FIRM staff
The FIRM's Track Policies must be adhered to at all times
Participants who do not attend the mandatory tech inspection and mandatory drivers/rider meeting may not be permitted on the track until they see the FIRM's Event Manager
All drivers must be over 18 and have valid driver's license
Drivers under 18 *may* be allowed on track if they hold a recognized competition license AND have a parent sign The FIRM's parental liability and release waiver form
Good condition working seat belts or full safety harnesses are required
Fire suits are recommended for all race prepared cars
The paddock speed limit at The FIRM is 10 MPH
Both the driver and passenger windows must be down
Return to pit-out for tire inspection if you have put two or more wheels off course
If you drop two or more wheels off the course, go to the paddock for consultation. Repeated off course driving may end your day.
Track Days run rain or shine with no refunds*
Track Attack is for drivers of all experience levels. However, you may be required to purchase a minimum of one track day session with a FIRM instructor if you have no prior track day experience. More information on track day instruction sessions may be found here.
The FIRM reserves the right to refuse access to the track to anyone at anytime
Definition of Flags
Green: Your session has started
Checkered: Your session is over – finish this lap and return to the paddock
Yellow: Caution, slow down, no passing and be prepared to avoid track blockage
Red: Come to an immediate and safe stop
Black: Slow down, no passing – come to the paddock
Blue with yellow stripe: Check your mirrors – a faster car is about to pass you
Registration and payment
The registration is all done online and is really simple. Just follow the link at the bottom and you will be able to register and pay online. Online Registration and Payment Link
NOTE: You must contact your insurance provider to determine if your vehicle is covered while participating in any on-track activities here at The FIRM. Regardless of the status of your personal coverage, you are solely responsible for all physical damage to your vehicle or FIRM property regardless of the cause and regardless of the status of personal insurance coverage. The FIRM does not provide any damage insurance for your personal vehicle and will not be held responsible for any damage regardless of the cause, even if such damage is caused while your vehicle is being moved or towed by FIRM staff. Should you be contacted by another driver, that other driver is also not responsible for damage to your vehicle.