ATV & UTV Courses at The FIRM
ATV & UTV Courses at The FIRM
Looking to master off-road driving in ATVs or UTVs? The FIRM is the best place for you! We have expert instructors, and an unbeatable ATV/UTV playground! This course is designed to have a great experience or to advance your technical skills.
ATV & UTV Course Overview
ATV/UTV courses include at least 1 hour of classroom instruction and a 2:1 student/instructor ratio. Two students are required per UTV/side-by-side vehicle, and you must sign up with at least 4 students per course.
Military Grade ATV's & UTV's
At The FIRM, we use full-size, 700cc or larger Polaris military/commercial ATVs/UTVs. Powerful, reliable, and able to take on any terrain, our off-road vehicles are truly top-notch – and are used by U.S. military groups for training.
ATV & UTV Train The Trainer Course
If you're an advanced rider, The FIRM can offer you specialized "Train The Trainer" courses. Taught by a Polaris Certified Instructor, this course will give you all of the skills and expertise you need to teach an ATV class or course of your own!
Skills To Master
Slope Maneuvers & Hill Climbs
Tight & Confined Tree Line Navigation
Cone Courses & Control
Cornering & Braking
Obstacles Courses
Deep Water Crossing
Winching & Recovery
Highly Technical Skills with Quick Reaction Time
Ultimate Equipment Control Management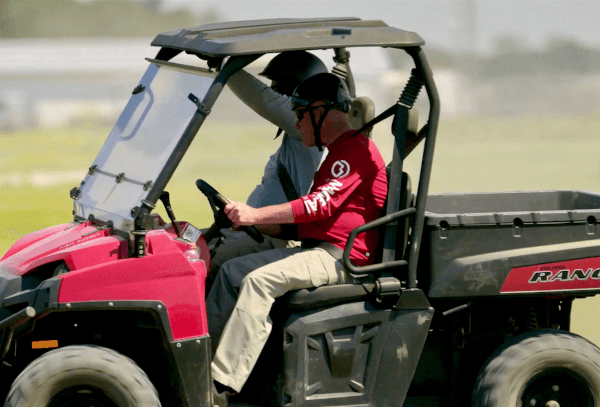 Obstacle Courses
Our training facility has been approved by both Polaris and the ATV Safety Institute (ASI). The FIRM has over 400 acres with obstacle courses and multi-surface terrain. Our courses include miles of trails that offer a wide range of experiences through mud, forested trails, sand pits, deep water crossing, and elevated hill climbs.
Obstacles range from super fun to extreme fun – and are designed to push the limits of even the most skilled riders. From our 3 mile ATV "Safari" course with 50 obstacles, to our ultimate "Over The Edge" course that includes winching and water crossings, there's a course here for ATV/UTV riders of every skill level.
Student Information
Congratulations! You're on your way to an amazing day. Here's what you need to know!
All vehicles you use at the RallyPro Performance Driving School at The FIRM must be fully covered for damages or you must post a damage deposit as described in our Vehicle Damage Agreement.
If you have any special needs just let a team member know, we are here for you! Thank you for choosing the RallyPro Performance Driving School at The FIRM.