RallyPro Rally School & Rally Driving Courses
Performance Rally School Instruction
RallyPro Performance Driving School at the FIRM provides world-class European-style rally driving instruction. Using competition proven rally school driving techniques, you will push the limits of technical driving on loose surfaces. At high speeds, you will learn how to handbrake slide the car around tight hairpins, utilize left-foot braking and the infamous "Scandinavian Flick". Our rally school driving courses are unique, provide personalized one-to-one instruction and our classes are booked based on your schedule. The skills you learn from our instruction will improve your driving in both on and off-road scenarios. Rally instruction will also teach you how to handle every day driving hazards, to avoid accidents, and potentially save lives. It's fast. It's technical. It's fun.
The FIRM, located in the beautiful state of Florida, offers 22 miles of configurable and diverse surfaces. Our 6 stages include an asphalt road course, broken tarmac, skid pad, loose gravel, dirt, sand, lime rock and unlimited scenarios to test your driving skills. These rally school courses will put you in one of our 2WD or AWD rally cars on our 1,000 foot skid pad, rallycross course layout, and European inspired rally stages.

Skills To Master
Skid Pad Car Control Techniques

Vision Management

Weight Transfer and Traction Management

Hand brake and Pendulum Turns

Throttle Management

Left Foot, Straight Line & Trail Braking

Understeer and Oversteer Management

Drive the Proper Rally Line

Versatility; Adapt to Changing Conditions

Highly Technical Skills with Quick Reaction Time

Ultimate Car Control Management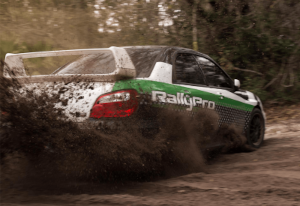 Prices are same for HPDE, Rally or Mix and Match!
Student Information
Congratulations! You're on your way
to an amazing day. Here's what you need to know!
All vehicles you use at the RallyPro Performance Driving School at The FIRM must be fully  overed for damages or you must post a damage deposit as described in our Vehicle Damage Agreement.
If you have any special needs just let a team member know, we are here for you! Thank you for choosing the RallyPro Performance Driving School at The FIRM.