Open Track Days At The FIRM
We welcome drivers of all experience levels to enjoy our track!
Come test your driving skills and take your car to the edge of its performance at The FIRM "Open Track Days"! Become a Drivers Club Member for even more exclusive open track benefits.
Where are you going to find blind corners, elevation changes and kinky roads in Florida? The FIRM has exactly what you are looking for! No speed limits! No traffic lights! High speeds, plus you will experience esses, hairpin turns, and straights.
The FIRM open track days attract a diverse group of drivers. So whether you're an expert driver, or a novice still getting used to the world of motorsports, this is the perfect time to test your skills! We rotate groups of 9 cars on our 1.6 mile track, which means you get a lot of seat time, and a lot of room to improve your driving skills. Check out our track here.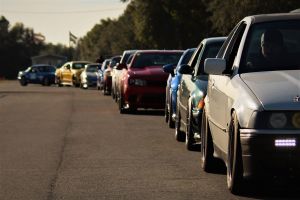 Open Track Days *FRIDAY, SATURDAY & SUNDAY
* Check out our calendar for BLACK OUT DATES
FIRSTTIME Trackers WELCOME! Register Early and Pay Only *$250
*Required $100 Instruction Session If Limited Track Experience.
$275 – Registration Fee
$250 – Early-Bird Rate (3 or more days prior to event)
$150 – New Helmets For Sale $150 & Up
$100 – Private 20 Minute Instruction (required for new trackers)
$100 – Extra Driver Fee (collected per driver, not per car)
$25 – Passengers or Helmet Rental (SA2015 or newer ONLY)
$10 – Guests and Crew Members
$35 – Rent Transponder
$18 – Link Personal Transponder
7:30 AM – Gates Open
8:00 AM – Vehicle Technical Inspection
8:45 AM – Mandatory Driver's Meeting.
9:00 AM-12:00 PM – Track Open
12:00 PM-1:00 PM – Track Closed (Lunch)
1:00 PM-4:00 PM – Track Open
5:00 PM – Gates Closed
*WE RUN RAIN OR SHINE (No Credits. No Refunds.)

FIRM events are subject to change based on Private Events.
In rare cases OTD Events may be rescheduled and credits applied (no refunds).
Click here to view and register for our upcoming Open Track Days.
Insurance & Liability Disclaimer: Check your insurance provider to determine if your vehicle is covered for track use or CLICK HERE for Track insurance quotes with Hagerty.
Things to Help You Plan Ahead
Pre-register to guarantee your space.
20 Minute Instruction session required for all first time FIRM track customers
All drivers must attend the mandatory driver's meeting.
We run RAIN or SHINE. No rain checks/no exceptions. If your car is inoperable and you call 48 hours prior to event we will issue a one time courtesy credit good for 30 days.
Vehicle Technical Reviews by The FIRM's track stewards is mandatory and vehicles must meet minimum standards. Please download and complete the Vehicle Technical Inspection Form and bring it with you to tech inspection.
Driving a convertible or any OPEN TOP vehicle, even with a pop-up, factory or after -market roll bar, is an added risk. If you are unsure if your rollover protection is adequate then seek a professional opinion or use a different vehicle. We can not advise you, other than to state the obvious dangers of open tops at high speeds.
Open Wheels are allowed.
Everyone will be required to sign a WAIVER without exception
The entry fee is collected per driver.
Every driver must pay/register individually.
Fire suits are recommended for all race-prepared cars.
Helmets and seatbelts are required AT ALL TIMES on the track.
Closed-toe shoes are required. Long pants and a long-sleeve shirt are recommended.
Passing is only allowed when your wheels are straight, and only when the driver being passed gives you a "point by" to indicate that they are prepared for you to pass them.
Dropping two or more wheels off-course will require you to return to the paddock for a tire inspection.
Driving off-course repeatedly, whether intentionally or unintentionally, may end your race day. Respect other drivers on track – we are not racing.
Must be 16 or older to drive on track and MINOR WAIVER required for anyone under 18.
Q: Are all convertibles allowed on track?
A: Yes if you can pass the "Broomstick Test" AND…
1. You understand it's an added risk as upside down your head may take the impact.
2. If your vehicle has a factory roll over protection (see below) or an aftermarket roll bar then you should be able to pass The FIRM's Tech inspection and drive on track.
3. We have compiled a list of convertibles (see below) for which a manufacturer have stated to have a factory roll over protection. We are updating the list on a regular basis. We have also included a list of acceptable aftermarket roll bars. The roll bars on the list are examples only. The FIRM does not endorse any brand or model of roll bars and will not be held liable for any failures of roll bars. If you have any questions please contact The FIRM before registering for a track event.
4. If your vehicle is not on the list, please provide FACTORY documentation stating that YOUR make and model has rollover protection. If it was an option (e.g. pop-up roll bars), then you need to prove your car has these. Submit the documentation The FIRM @ [email protected]
Submitting documentation other than from the manufacturer may not be sufficient.
Acceptable documentation:
1. Factory-produced sales brochures and websites (a link may be sent).
2. Letters or emails from an employee of the factory. Must be on letterhead or use the manufacturer's domain. The letter must state very specifically, that the vehicle does have rollover protection.
Known Convertibles that will pass tech "as is" from the factory
Targa top vehicles – OK
Audi A4/S4
Audi TT Roadster (2009)
Aston Martin DB9, DBS
BMW 1 & 6 Series
BMW Z3 (Optional pop-up bars)
BMW Z4
BMW E36 (Optional pop-up bars)
BMW E46
BMW E90
Chevrolet Corvette C8
Chrysler Crossfire
Dodge Viper
Ferrari 355 & 360
Honda S2000
Honda Del Sol (top on or off okay)
nfinity G37
Jaguar XK8/XKR
Jaguar F-TYPE
Lamborghini Murcielago / Gallardo
2002+ Lexus 430sc
Mazda Miata (3rd & 4ta Generation only, 2006‐present)
Mercedes SL (1990+)
Mercedes CLK, SLK, E Class, C Class
Mini Cooper 2009+
Nissan 350Z/370Z
Porsche Boxster
Porsche 991, 996, 997
Saab 9-3 (2004 &)
Volvo C70
VW Eos
Some newer Beatles- years pending
If your convertible is not in this list, it most likely requires an aftermarket roll bar to be installed in order to use it on track.
Acceptable roll bars include, but are not limited to, the following:
Hard Dog (any specified as acceptable for NASA or SSCA HPDE on their website).
AutoPower Street Roll Bar, Street-Sport Roll Bar, or Race Roll Bar.
Blackbird Fabworx Miata / MX5 / 2017+ Fiat 124.
The above roll bars are examples only. The FIRM does not endorse any brand or model and will not be held liable for any failures of roll bars.
Q: What about the broomstick test?
A: The top of all occupants' helmets must fall below the line between the top of the windshield and the top of the roll bar for the roll bar to provide full protection. In motorsport, this is referred to as the "broomstick test" because it is typical practice to rest a broomstick across the top of the windshield and the roll hoop while the occupants are seated in the vehicle to determine whether the roll hoop is high enough. If the top of any occupants' helmet is above this plane, the roll bar is not going to provide sufficient protection.
Sufficient roll hoop height can also be an issue for tall drivers, in part because the roll hoop is designed by the manufacturer for street use (driving without the additional height of a helmet). It is your responsibility to confirm you have sufficient roll bar height before registering for our events.