"She is like a great morning sunrise. It is a surprise when you see a beautiful sunrise. Warms your heart. She does both of those. Anna is driven and has incredible focus for a kid" – Suzanne Butler, Mother.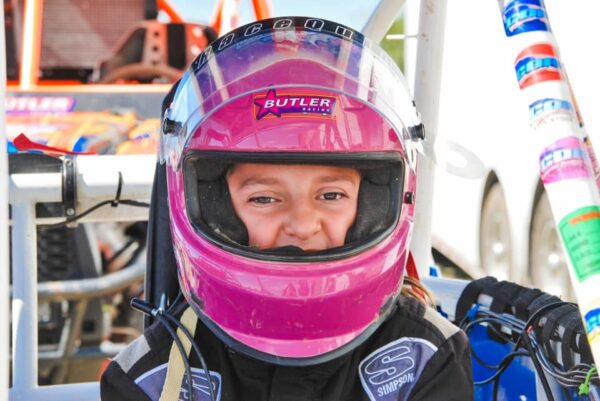 THE DRIVER
Name– Suzanna Rullie Butler "Anna"
Age– 10
Racing Number– 28
Affiliation (if team)- my family Butler Racing and Complete Performance UTV's
Sponsors– Butler Racing, Turbo Dave and Jacob Gerken at Complete Performance UTV's, Advantage Auto
Hometown– Walterboro, SC
Years competing– 4 years
Notable Finishes:
2021 Texplex youth SXS series champion
2020 CORS Youth Modified Series Champion.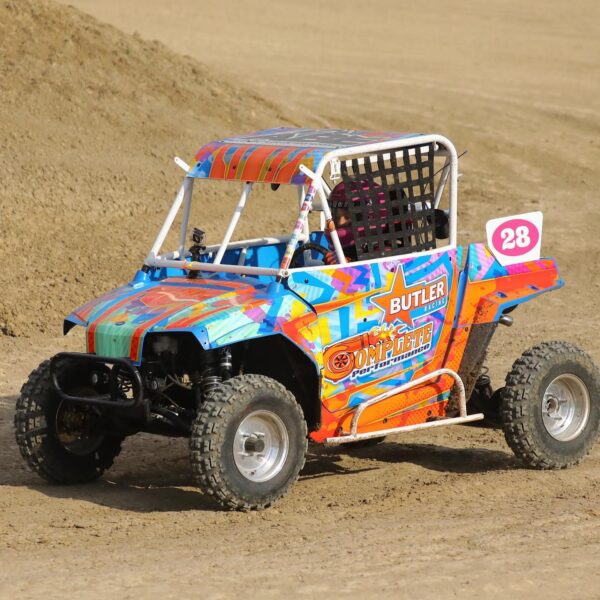 THE VEHICLE
Year/Make/Model: 2016 Polaris 170cc
Racing Class: Youth Limited 170cc
Racing Series: Texplex, CORS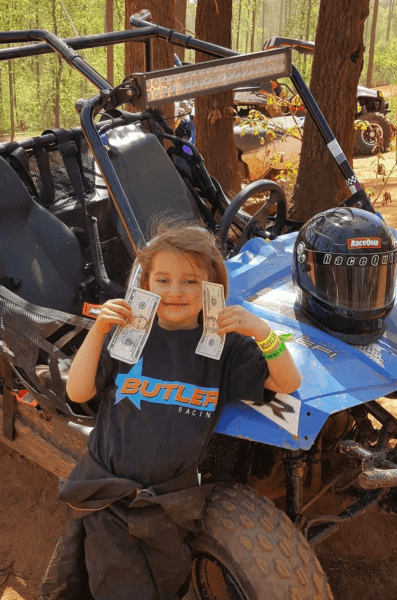 As a baby, Suzanna (Anna) Butler, was diagnosed with craniosynostosis. Craniosynostosis is a birth defect in which the bones in a baby's skull join together too early, which happens before the baby's brain is fully formed. At the age of just 3 months, Anna's skull had closed, causing her to have uneven eye sockets. If left untreated, it would result in double vision, loss of speech, loss of hearing and facial deformation. 
In a "typical" surgery for Anna's condition, surgeons must remove the front portion of the skull. However, thanks to pediatric neurosurgeons at MUSC in Charleston partnering with pediatric plastic surgeon Dr. David from Brenner Children's Hospital in North Carolina, Anna was able to receive a newer procedure. With the newer "spring surgery", they only had to remove a sliver of Anna's skull where the original front sutures were located down to her eye socket. Anna's mother explains that they then added what looked like a paperclip to hold the two pieces of bone apart. Anna did live in a little foam helmet in order to protect the part of the brain that was not protected by the missing piece of skull. Fortunately, the bone would grow quickly and healing would come. When the time came, Anna returned for an outpatient surgery to remove the spring.  Her mother shares that Anna was left with a zigzag scar, that they call her "Harry Potter Mark". From the time they met with the surgeon, Anna received the surgery in less than 30 days. For years, Anna received brain scans every 3 months, but was finally released from care.  Currently, she sees a  special pediatric optometrist just to make sure her eyes stay level.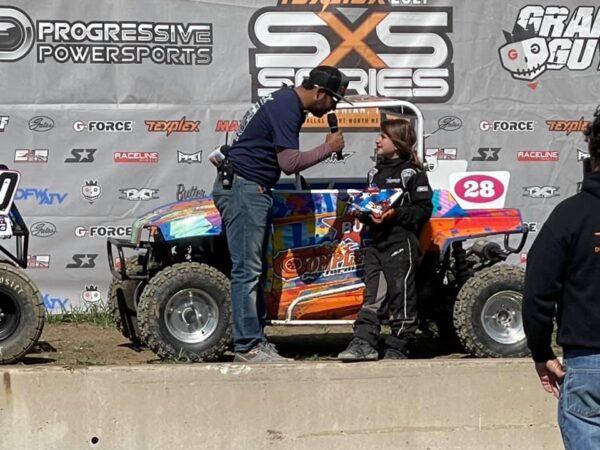 From a young age, Anna was a champion.  And years later, she would soon find herself atop a podium after ripping through dirt tracks in  her 2016 Polaris 170cc side by side (SxS).  At age 4, Suzanna (Anna) Butler, found herself behind the wheel of a side by side (SxS), or UTV.  Inspired by her older brother, Anna decided she wanted to do more than just watch him race. At the age of 6, she competed in her first race. A few years later, she would become the 2021 Texplex youth SXS series champion and 2020 CORS Youth Modified Series Champion. 
"I started driving local tracks with my family. My mom would ride shotgun and tell me when to lift. I needed to slow down so I would not crash. When I got to drive solo my brother would give me pointers over the radio. We built a track at our house and my brother and I would get lots of tracktime. I met Ulysses [FIRM Instructor] at the races with Jacob Gerkin [FIRM customer] and he helped me tons. I eventually went down to The FIRM and took lessons from Ulysses. I gained so many seconds with my first practice. It helped me tie up the season championship at Texplex!"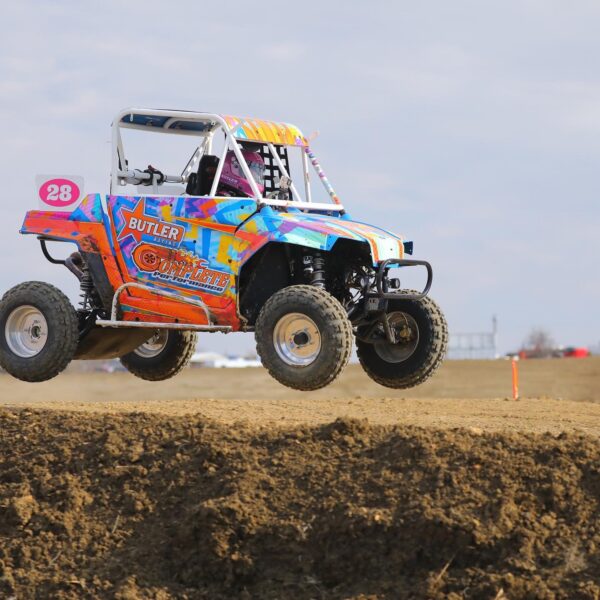 Anna had goals and she wanted to get faster.  Without modifying her UTV due to competition rules and regulations, she knew she needed the help of a professional. The season points were very close and many of the kids she raced against competed in other series and received more seat time and exposure to racing.  Anna explains that the other drivers "were getting stronger because of the track time. They were closing the gap. The 4th last race I lost to Tanner! He smoked me, which had NEVER happened before. We are normally neck and neck or I am running away from him.  My momma said we have to find a way to shave off some time and Jacob and Ulysses said come to the firm, bring her little SXS and take lessons. And that is what we did!"  After training with instructor Ulysses Reyes, Anna shares that she learned a lot of control. "I learned how to steer with my brakes, slide into the corners, drive through cones, tighten up my lines and straighten out my corners.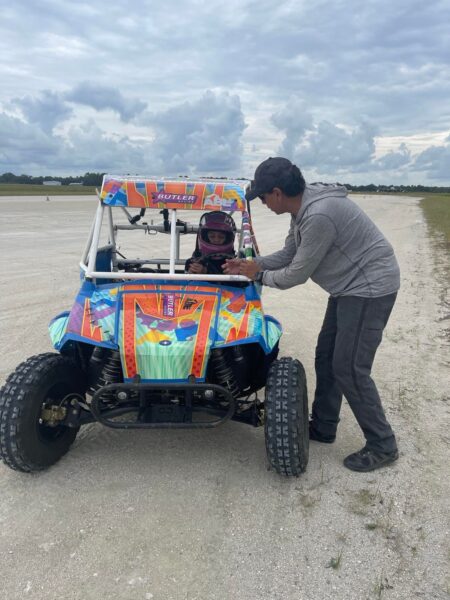 When the pandemic hit, Anna and her brother Allen were out of school, so the family decided to go on an adventure and race a series in the middle of the USA. Having a flexible job allowed mother Suzanne to travel with the kids. The family would pack up the kids, and Suzanne would drive their 85' long motorhome and UTVs and travel 32 hours to the races. With strong support from family, Anna had a successful season. "Anna was fine letting me take the lead in managing her SxS maintenance. Her SxS ran great and was for the most part fast and would finish the race. I think her team of people made her more successful so quickly.  Anna had an army behind her and she was at the top of her age group. She was laser focused to get it done. Suzanna was one of those kids who wanted it really bad and was not intimidated to ask for help." her mother adds.   She had help maintaining her SxS between races thanks to Dave Newfield at Complete Performance UTV in Marietta GA & fellow racer Jacob Gerken. Gerken also assisted at the races if anything was wrong, however Anna was responsible for checking tire pressures, her own bolt check, refueling and ensuring any new tires were mounted. 
If you ask her mother what kind of a racer she is, she will tell you that Anna wants to win, and she understands that comes in stages. She is quick off the start and likes a competitive race. While she is not considered an aggressive driver, she will certainly hold her line. "She likes to befriend her competitors. Most of the time they're hugging on the podium no matter who is sitting in first".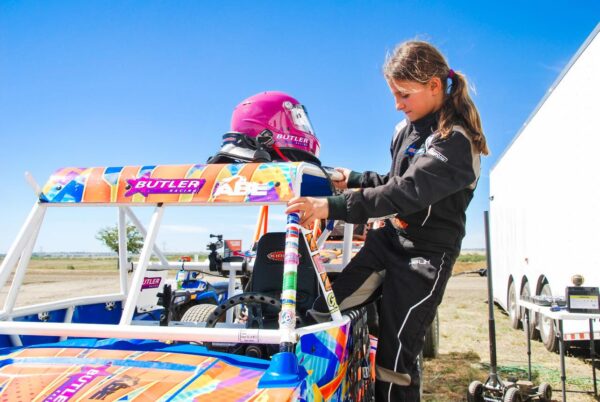 After winning the Texplex Series, the family took a break from racing and shifted their focus as the kids returned to school and the world began to find normalcy again. One of Anna's other hobbies includes horseback riding and competition and she wanted time to focus on her horses. When asked what her goals are, now 10 years old, Anna shares that she wants to get on the honor roll, win the "Grammar Miss AJA", a beauty pageant at her school and ride at the DRTPA (Dixie Regional Team Penning Association) finals and win the youth sorting and penning championship saddle in West Monroe, LA this December. Her plans for 2023 are to get back into side by side racing.
"I miss my racing friends from Texas, Oklahoma, California, Australia, almost everywhere. I miss driving on the podium and talking to Big Tex. He helped me to remember my sponsors and talk in a microphone to the crowd.  That was fun and it did not come easy to me. I hope when I come back to the SxS racing I will be as successful in the older youth classes as I was in 2021!"
She is a focused and determined little being and she know what she wants. If you ask her what she wants to be when she grows up, she will tell you exactly what she envisions.  She will tell you that she wants to "drive a dirt track car when I get older. I want to be married to a tall brown-headed farmer, race car driver that rides horses like me. I want to be a momma of three and raise them on 1000 acres". We look forward to watching Anna chase after her dreams and excel in her future endeavors! 
Follow Anna's Adventures Here:
Instagram @suzannabutler28
TikTok @Thebutlerdonedidit