Ready to get involved in performance driving but can't decide between autocross vs track days?
Have you been looking to take up an automotive hobby?  Two popular performance car driving disciplines are autocross and track days.
Each style of event has its own list of pros and cons.  But, these two disciplines are also very different.
As someone who has participated in both these type events (and even done some instructing in autocross), I can shed some light on the differences between the two.
Hopefully, my experience with both will help you determine which of the two makes more sense for you (if you really must choose).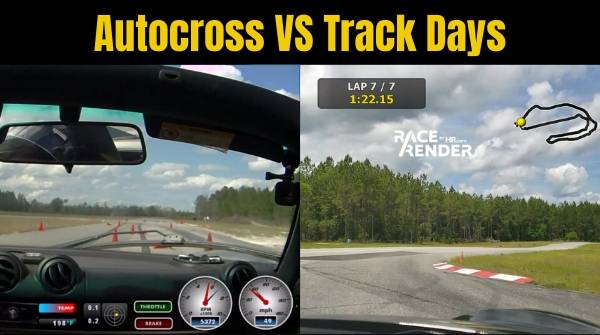 Breaking Down Differences: Autocross VS Track Days
But first, one similarity:
It's important to recognize that neither of these events should be called racing.  Autocross is a timed event and you can be timed (or time yourself) on track days.  But you are not racing other cars.
Cost
One major consideration when choosing between the two disciplines always comes up.  And this point is typically the first point in a driver's mind that drives (pun intended) their decision when choosing between autocross and track days.
Sure, entry costs for Autocross are usually less than those for track days.
But, when you break down the entry fee of the event in comparison to seat time, you may be surprised at the striking difference!
Let's say your local autocross group charges $50 registration for a 1-day event.  If you're just starting out, $50 is relatively affordable.
A track day at The FIRM is $225.  And, while the cost difference is significant, I implore you to read further, because so is the difference in the amount of seat time for 1 day!
Let's say your autocross day includes 6 runs (each run is a lap).  For the ease of mathematics (which I'm not as good at), let's say each run is 1 minute (typically each runs shorter).
In this scenario, you've paid about $8.33 per 1-minute run.
When you attend track days with most high-performance driving groups, you can expect 3 to 4 sessions during the day.  Estimate roughly 1 to 1.5 hours of driving in one day!
If seat time hasn't already sold you, let's hit the numbers.
Based on this example, $225 for a day with 1.5 hours of seat time means you're paying about $2.50 per minute. (Lap times at The FIRM are longer than 1 minute).
Depending on the number of drivers and other factors, it's not unheard of for drivers to get 3+ hours of track time at The FIRM.
Other Cost Comparisons
Although seat time for the dollar, looks to be more favorable for HPDE or open track days, there are other costs to consider.
The biggest difference in cost, other than seat time, is consumables.  Consumables include, but are not limited to tires, fuel, brakes, and fluids.
Because every car is different, this consumable cost differs greatly depending on the car, the driver, and the track.
Track insurance is an added cost option for sanctioned open track days, but this cost varies greatly depending on the vehicle, experience, and car value.  Track insurance can be purchased from specific insurance companies specializing in track events.
To work or not to work?
Autocross exists with a community of dedicated volunteers and it's the volunteers that keep the sport going.
This means that when you sign up to attend autocross, you're obligated to work an assigned task.
Working during the event is highly rewarding and helps you build several skills you wouldn't otherwise receive.  Running timing, chasing cones, and calling out penalties are just some of the stations you have a chance to learn about.
On the other hand, for track days you show up, prep your car, and drive.  Your off time can truly be used in a manner as you see fit!
Need to eat?  Need to inspect or maintain something in the car?  Or do you need to just chill out and envision the track to make some adjustments for your next session?
Track days give you that opportunity!
From my experience, as much as I have loved the autocross community, having downtime between sessions is a worthwhile advantage!
Safety
In both scenarios, I've felt relatively safe, though there is always the chance something goes wrong.
In autocross, a course is usually set up using strategically placed cones, known as obstacles, on an empty airport runway, big open parking lot, and even sometimes on a road course.
Before the event gets started, each car is inspected by a designated and experienced worker who will pass or fail the car, which is called a tech inspection.
Cars are let out onto the course at appropriately staged intervals to reduce or eliminate the chance of coming close to each other.
Staying within the confines of the laid-out course, which can be tight, you do have the chance of tagging said cones.  These can create scuff marks on your paint and in some cases crack a bumper, though it is not often the case.  I'd be remiss if I didn't tell you about some of the possibilities though, right?
Generally, though, it's uncommon to be hitting high speeds on an autocross course, so it is considered reasonably safe!
But it may come as a surprise that track days are relatively safe as well!
I know we've all seen the race car crash videos, and this certainly will be in your mind especially as you're starting out.
Keep in mind, this is not door-to-door racing!  During open track days and HPDE events, there are no trophies, contingencies, or sponsorships to be won.
Track day events have rules and many safeguards in place to make an HPDE as safe as possible.
You are expected to have your vehicle inspected and to sign a waiver to acknowledge that your vehicle is in good driving condition for a road course.  There is a tech inspection prior to most track day events to try to catch any obvious problems as well.
While cars are on track with you at the same time, there's typically at least one warm-up lap.
Other safety measures are to:
Lump similarly experienced (or inexperienced) drivers into run groups.
Have point-by passing on certain areas of the track.
Require first time track day drivers to have instruction.
Require several events under their belt and proof of improvement before being approved to move up in class.
Require slower cars to allow quicker cars to pass.
Mandatory driver's meeting every morning to go over the rules and responsibilities of all participants.
If you don't feel comfortable just "sending it" on track without a financial safety net, you also typically have the option to cover your vehicle with track day insurance.
Competitiveness?
While track days and autocross are not racing, there is some level of competitiveness.
Track days will often come with some bragging rights about lap times.  But, unless you're running time trials, you're not recognized at the end of the event for your fast laps.
Of course, there's no doubt you'll be sharing your videos on YouTube for some of those bragging rights.
In autocross, there is an official record of your times and you may receive some recognition for being among the fastest in your class (or for having the fastest time of the day).
Usually, there are also end of year awards and you have the chance to compete in nationals as well.
Driving Style
Because of the tighter and more technical style, of course, you'll find a driver is more likely to adopt a driving style in autocross that doesn't mimic every day driving habits.
Because you're trying not to take out cones, (each cone is a 2-second penalty against your time) you find that some drivers adopt a more "point and shoot" style of driving in autocross.  This means a driver is making quick, hard inputs to get the car around cones as quickly as possible without taking any cones with them.
Autocross will train you to understand vehicle dynamics to anticipate how your car will behave in various scenarios while keeping it within the tight confines of the course.
Alternatively, if you've previously used the "point and shoot" method of driving in autocross, it'll be a habit you must break yourself.  Hard inputs on breaks and throttle are not conducive to the setup and exit of most corners.
On a road course, you have more available track and you should use it by setting up for a turn in advance and allowing the car to track out naturally.
You don't want to fight your car, or you'll be playing catch up with it and losing valuable time (not to mention being unsafe for everyone on track with you).
In summary, choosing between autocross vs track days is a very personal decision.
If a controlled environment or budget is your main concern, Autocross is a great place to get started in motorsports.  Track days may be in your future, but you'll want to adjust your driving style to be faster and safer on track.
If seat time and going fast are your main concerns, then Open Track Days and HPDEs are for you.
The good news is, you don't even have to choose!  Many people enjoy participating in both.
—
The FIRM is a great place to explore your motorsport passions!
In addition to hosting our own open track days, we also offer private track rental so that your group can host autocross or track day events.
And that's just the beginning!  We also offer 1:1 instruction in HPDE and Rally, just to name a few.