Wondering what the Tesla Model 3 Performance Track Mode really does on a racetrack? 
A little back story on my experience: I have been racing in motorsports for about 20 years. I have competed in motorcycle, autocross, rallycross, rally, time trials, and endurance series.
I have personally tracked 16 vehicles at this venue and have run everything from a bone stock Miata to a fully race-prepped Lotus. I am a member of The FIRM as well as an instructor. So this is my experience running the Tesla Model 3 Performance in time trials running in the TTEV class.
Have you wanted to test out the Tesla Model 3 Performance Track Mode but rather hear about an on-track experience from someone else, first?
Well, I put my Tesla Model 3 Performance on The FIRM's 1.6-mile racetrack for the first time and gathered a lot of data for you!
I left my home in Jacksonville FL with the Model 3 100% charged and arrived at The FIRM with 76% battery life.  To be fair, I wasted upwards of 4% making a quick run back to the house to grab the wallet I'd forgotten.  At the end of the day, I arrived back at the house with 50% battery life.
So, how does the data stack up from running the Tesla Model 3 Performance in Track Mode at The FIRM?

What's done to the Tesla Model 3 Performance?
Before we talk about the stats, let's talk about what's on the car!
The Model 3 Performance is the only Tesla or EV on the market with track mode!  I'd recommend taking a look at how track mode works because you may have to adjust the settings depending on your driving techniques or your track layout. Track mode allows you to adjust traction control, front/rear power bias, and overclock your battery cooling for high performance driving on the fly … well maybe don't do it while on track.
This is a mostly stock Tesla Model 3 Performance with 20" wheels.  But I do have some other minor upgrades like Unplugged Performance front and rear sway bars, track brake pads, Castrol SRF brake fluid, and Eibach lowering springs. The car is on stock alignment specs with stock Michelin Pilot Sport 4S 235/35/20 tires. These last two items, in my opinion, are the limiting factors for the car to achieve faster lap times.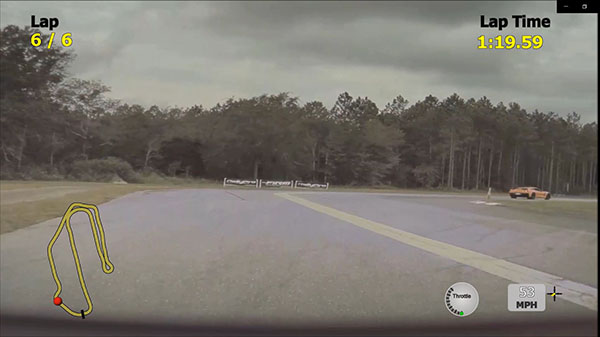 Tesla Model 3 Performance Track Mode Data
I ran the Model 3 for 5 sessions, although one was short due to one of the other cars on track losing a wheel in one of those sessions.  This data also accounts for a parade lap and quick transponder check.
Here is the break-down of each session and each charge:
The best lap was 1:19:69
I arrived at the track at 8:27 a.m. with 75% battery life and charged for 19 minutes to bring me to 80% for an increase of 4%.
Transponder check and parade lap reduced battery life 2% (from 80% to 78%).
Charged the Model 3 Performance for 18 minutes for a 6% increase, bringing the car back up to 84%.
In session 1, the car saw 16 minutes on the track and the charge dropped to 57% (down 26%).
When my session was over and was waiting for my next, I charged for 39 minutes showing an increase in battery life to 65% (up 8% from the end of the session).
Session 2 was only 5 minutes because another car in the session lost its wheel on track so there was only a 5% battery drain bringing the Model 3 60%.  I was able to charge for 49 minutes which brought the car's battery life back to 71%.
I had one more session before lunch.  In session 3, I spent 12-minutes on track and had my fastest lap of the day.  The battery went from 71% to 49% (a 22 percent decrease).
I charged the Tesla Model 3 performance for 2 hours and 41 minutes for lunch and while waiting for other sessions to complete, bringing the battery life to 84%.
I spent 10 minutes on track for session 4, losing 24% battery life, bringing the car back to 60%.
Another charge for 31 minutes increasing 7%, bringing the car's battery life to 67%.
Session 5 was the last for me and the Model 3 Performance.  I spent 11 minutes on track bringing the car back to 45%.
Afterward, I charged for 1 hour and 10 minutes for an increase of 25%, bringing the car's battery life back to 70% for the ride back to Jacksonville and ended with 50% battery life once home.
Quick Stats
Round-trip travel miles between Jacksonville, FL and The FIRM: 124 miles averaging 289 wh/mile.
Time on Track: 54 minutes (45 miles) with an average 1567 wh/mile (max 1758 wh/mile)
Charge time: 6 hours 25 minutes on a 48amp Tesla Wall Connector charger
The Tesla Model 3 Performance Top Speed on The FIRM's Race Track: 112 mph
Total savings from charging at The FIRM: $8.82 at 10.5 cent/kw

A Couple Takeaways 
Stock Michelin PS4S 235/35/20 are not recommended for hauling around 4300lbs at full send. I was sliding half the time on the sidewalls.
Cars estimated miles were used 7 to 1 average while on the track
Average use was 2% battery for every minute on track
Charged 1% battery for every 5 to 6 minutes of charging
Without The FIRM's charger, I would have only gotten 3 sessions, at best. Playing it safe, I would have had to plan for 2 sessions.
I was the only one using the charger for the entire day.
The transponder worked great in the glovebox.
Tesla cars put the emergency brake on in park. Brake pressure on hot rotors equals warping. The only way I found around this was to put it in transport mode after a session, but you can't charge while in transport mode.  My routine was: run a session, do a cool-down lap or two, put the car in transport mode once parked and wait 5-10 minutes for the brakes to cool, then plug it in for charging.
The SoC (State of Charge) didn't seem to matter much, it was much more about the heat of the batteries. I would get about 1 warm-up lap and about 5 or 6 hard laps, then the batteries would start warming up and I would lose power.  One cool down lap seemed to get them ready for another 4 or so laps.
The Cars I've Driven at The FIRM
Here are some other lap times in other cars with me driving at The FIRM. Keep in mind that weather conditions, tire condition, and type as well as The FIRM's renovations at the track over the last 10 years that have made the laps quicker. The list is in reverse chronological order (from most recent to oldest).
2020 Tesla Model 3 Performance
Mods: Sway bars, Eibach lowering springs, Michelin PS4S
Fastest Lap: 1:19.7
2014 Honda Civic Si
Mods: Full cage, Exhaust, Intake, MCS suspension, Sway bars, Tune, Hankook RS4
Fastest Lap: 1:22.7
2019 Honda Civic Type R with and w/o mods
Mods: Exhaust, Intake, Aluminum Radiator, Oil Cooler, Tune, BC Forged Rims, Hankook RS4
Fastest Lap: 1:18.2
Without Mods Fastest Lap: 1:20.9
2017 Porsche Cayman S
Mods: Exhaust, BMC Air Filter, OZ Rims, Hankook RS4
Fastest Lap: 1:18.8
2016 Exocet (1999 Miata Drivetrain)
Mods: Exhaust, Intake, Hankook RS4
Fastest Lap: 1:21.2
2017 Mazda Miata RF
Mods: Front Sway Bar, Maxxis VR1
Fastest Lap: 1:24.9
2017 Polaris Slingshot SLR
Mods: Exhaust, Intake, Tune
Fastest Lap: 1:23.4
2005 Lotus Elise aka End Game
Mods: Everything, completely build Time Trials car
Fastest Lap: 1:14.8
2005 Lotus Elise aka Diablo
Mods: Supercharger, Exhaust, Intake, Ohlins Suspension, Brembo brakes, Hoosier A7
Fastest Lap: 1:16.6
2003 Honda S2000
Mods: Exhaust, Intake, Sway bars, Tein Suspension, Bridgestone RE-71R
Fastest Lap: 1:21.5
2013 Porsche Cayenne Turbo
Mods: Nada
Fastest Lap: 1:22.3
1987 Toyota Celica GTS
Mods: JDM Engine swap, fully caged, Champcar prepped, BF Goodrich g-Force Rival
Fastest Lap: 1:24.8
2011 Nissan 370Z
Mods: KN Filter, BF Goodrich g-Force Rival
Fastest Lap: 1:24.1
2003 Nissan 350Z (Automatic)
Mods: Single Turbo, Exhaust, Intake, Built engine, BF Goodrich g-Force Rival
Fastest Lap: 1:23.2
If you're looking for track time in an EV, I hope the information I shared about my experience at The FIRM in the Tesla Model 3 Performance with Track Mode was helpful.