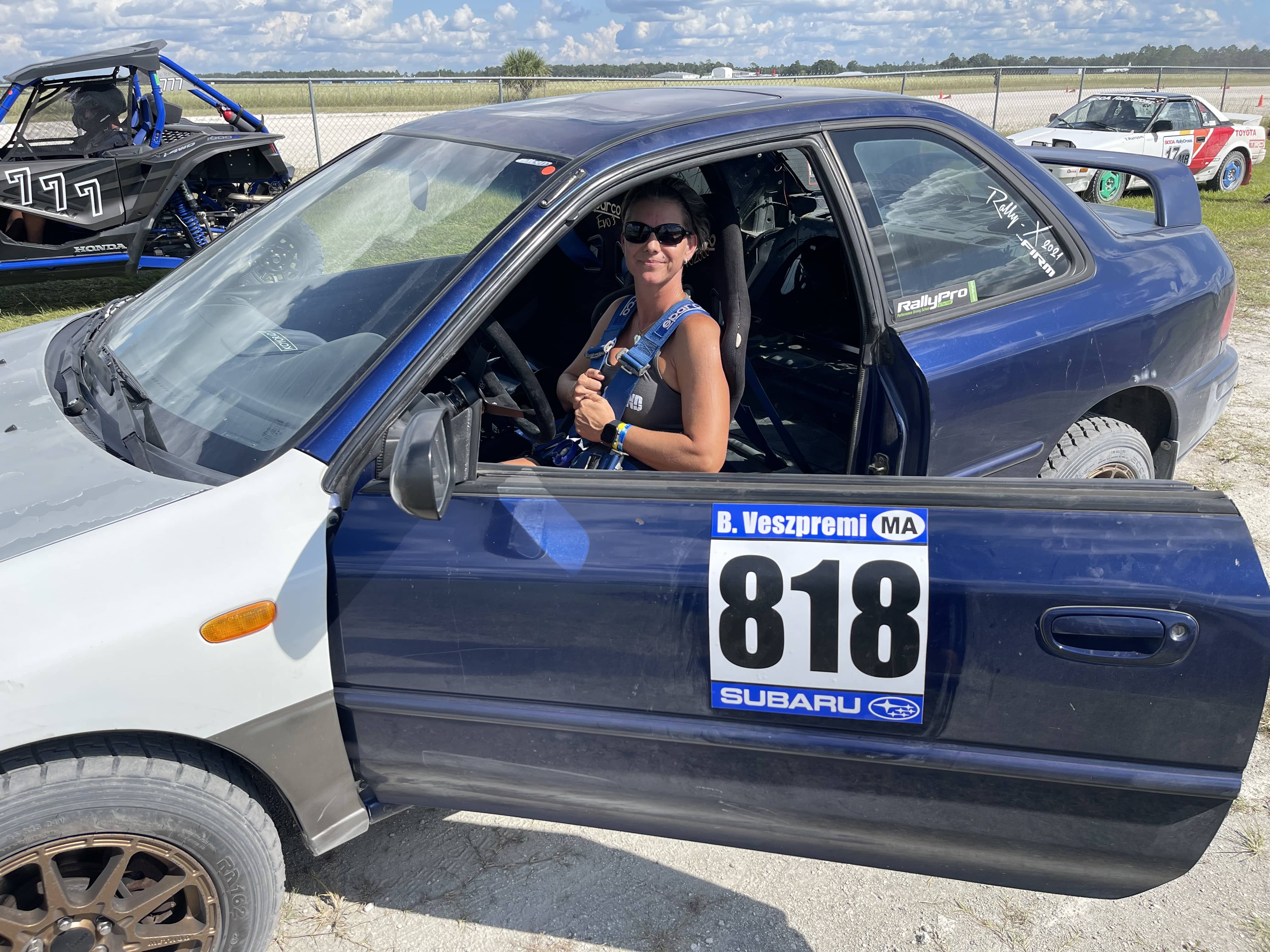 THE DRIVER:
Name-  Beatrix Veszpremi
Age- 44
Racing Number-  818
Affiliation (if team)- Team Higher Ground
Sponsors-
Hometown- Miskolc, Hungary
Occupation- Business Owner
Years competing- 1 year


THE CAR:
Year/Make/Model: 2000 Subaru Impreza 2.5 RS
Nickname and reason behind the nickname (if applicable): Blue, that's her color
Racing class: Modified All Wheel Drive in SCCA; Group A at The Firm Rally X
What engine is in the car?  Stock 2.5L
Engine modifications and/or power adders? Lightweight flywheel
Cooling setup: Koyo Radiator
Horsepower and torque: 160hp  160 ft/lb
Transmission: 2006 STI 6 speed
Front and rear axle: Stock
Suspension: KYB AGX Suspension with King Springs
Brake setup: Hawk pads
Wheels & Tires, brands and sizes:  Acceleron RA 162 205/65 R15 tires on Method MR 501 wheels

Some families go bowling together, while other families watch sports games together, or take a trip to Disney World.  But for novice rally driver Beatrix Veszpremi, she grew up in a family that went to stage rallies. Before she was even born, Beatrix's mother and father competed in stage rally, with her father behind the wheel and her mother rattling off pace notes as they ripped through the woods.  They built a team of several drivers and co-drivers and life as a kid in Hungary for this new driver was full of excitement and lots of rally action. " I was so fortunate I was born into a really cool family, my parents did stage rally even before they had me. Rally has always been a family thing for us, it has become part of our everyday life. As kids, we were present at most of my parents' races", Beatrix shares.
After spending most of her childhood watching her parents work long hours, and dedicate most of their free time preparing for events; Beatrix grew with wonder, asking herself if it was really worth it to rally? Before she knew it, she had a chance to work with the organizers at local rally events where she participated in a variety of roles, giving her new insight and understanding for the sport of rally racing; and an itch to get into a car.

In 1997, at the age of 19, she had a chance to co-drive in a Peugeot 205 1.4 GT. She ran a few events with her driver where she had memorable 3rd and 6th places in her category. One of the most remarkable memories she shared was that of her first event, where they were involved in a rollover and still managed to finish the race.  That same year, she was invited to co-drive in a Ford Escort, where they took 1st place in her hometown during a winter rally, often one of the most challenging terrains to compete in. Over the years, Beatrix also co-drove for her father in a Peugeot 205 1.9 and her brother in a Peugeot 106; where they were one of the 0 cars (this is one of the vehicles that starts the rally to ensure the stages, or roads, are clear from any hazard before the prepared rally cars race at high speed). Her experience in Hungary spans across 9 rallies and 6 separate drivers. 
Her passion for rally runs deeply, and once she received her drivers license, the desire to get behind the wheel of a rally car began to root itself. Though never having the right opportunity, her dreams waited patiently for that time. 
In October of 1998, coming to the USA was a dream; something hard to reach, and it was when Beatrix first stepped foot here where she stayed for 9 months.  In pursuit of adventure and warm weather, she knew it was her dream to return permanently, and in December of 1999 she did just that. Here, she pursued a new life; learning an entirely new language, and searching to establish herself a career here. 
For more than two decades Beatrix continued building her life in the States. She was fortunate to have lifelong friend, and now husband Zoltan Hajdu, a former drifter, within 2 hours away.  She and Zoltan arrived in the States separately, but had a long history.  Their parents were friends from a young age.  Each time Beatrix's mother visited, she and Zoltan would get their families together. He had always invited them out to drift events, and by 2013, the two began dating.

Fast forward to September 2020, when life was finally settling, the couple purchased "Blue", (now Beatrix's) 2000 Subaru Impreza 2.5RS, which was discovered in an old barn.  The car had been in a front end accident, and she and Zoltan decided to fix it up. After Zoltan did all the body work, they stumbled upon a local Subaru shop, Higher Ground, where they got some engine work done. Here, Zoltan met owner, and now teammate, Ken Haun, who shared information about rallycross. Zoltan attended a few races alone, which piqued Beatrix's curiosity about this style of rally and landed her a spot behind the wheel.  She was hooked.  "I fell in love with it, that's my happy place". 
Beatrix, joined by her husband and eldest daughter, began racing Blue as a family. In February of 2021, they attended an SCCA RallyCross at The FIRM and knew they had to come back.  Inspired, she returned that same summer for her rally course, where she worked with instructor Bryn, and the results were noticeable. Her confidence behind the wheel grew, as did her speed and car control; landing herself an overall 3rd place position in the 2021 Rally-X championship points.  "I never thought I could learn so much in a couple of hours. He is an excellent instructor, he can answer all the questions and make you understand why we do certain things behind the wheel", she adds. "I just love this place. Every time I come here, I always take a picture of the sign. I have so many of them. If I had the money, I would buy this place and just live here and spend every day out here driving", she adds about The FIRM. 

Just as her parents did with her, Beatrix and Zoltan bring their two daughters to the events. She shares that it can be a challenge having the whole family there, where she must fill many roles like being a tentative mother, supportive wife and also a driver. In summer of 2021, they purchased a silver Subaru STI for a stage rally car for Zoltan to drive.   They have been working toward building their own prepared stage rally cars and recently debuted in the United States during the 2022 Sandblast Rally in the STI they had built.  After a 25-year absence, Beatrix returned to her position as a co-driver and sat alongside her husband as they embarked on a new journey together.


Beatrix decided it was time for her to build her own car and start chasing after her own dream to become a rally driver as well. "I fell in love with Blue, and I told Zoltan at the end of last year, I want my own stage rally car! He was in, and we started the project". 
While Blue was in the shop getting caged, Beatrix's mom came to visit from Hungary. In order not to miss one of The FIRM's Rally-X events, they had to modify their track car, which is another 2.5RS they call Baby Hulk. Beatrix shared that "this was the first time my mom was able to sit next to me, and she loved it. To me this is a big accomplishment. We were able to grab second place in Group A at this event".
Inspired by her family, husband and many American friends and drivers (of whom she mentioned some of The FIRM's very own competitors Mattea Freeman, Ken Haun, RalyGrl, and Amy Ebert; she has joined alongside all of them in her own car.  Beatrix shared that her biggest goal for racing "is to be able to drive on a stage rally here in the USA with my mom being my co-driver".
When asked what advice she would give to others looking to pursue their racing dreams, she said, "just do it. Don't overthink it, just go for it, be positive and never be afraid to ask for help or advice."