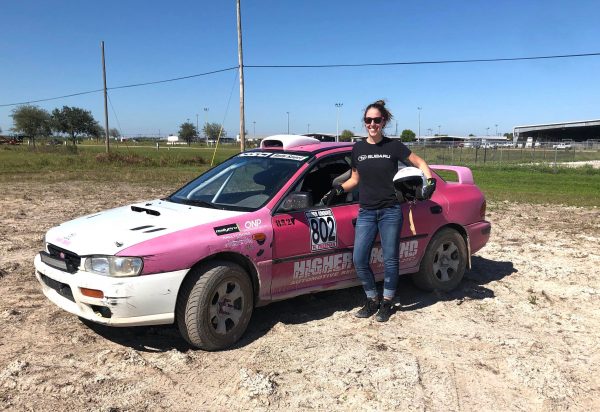 The Driver-
Name– Mattea Freeman
Age– 29
Racing Number-  802
Affiliation (team)– Team Higher Ground
Sponsors– N/A
Hometown– Middlebury, Vermont
Occupation– Automotive Technician / Business Owner
Years competing- 6
Events as a Driver: 3
Events as a Co-Driver: 5
Notable Finishes:
2017 SCCA Showcase Stock AWD 2nd place
2021 New England Forest Rally Regional L4WD Co-Driver 3rd place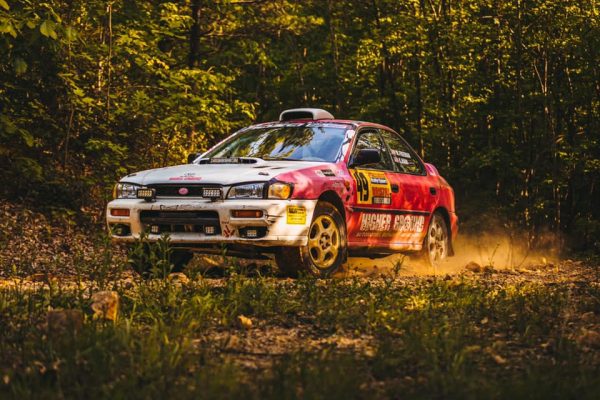 The Car-
Year/Make/Model: 1993 Subaru Impreza L
Nickname and reason behind the nickname(if applicable): My car's name is Peptobismobile or Pepto for short based on her color. When I bought this car in 2017 she was already painted pink; a glorious Rust-Oleum rattle can-job. I saw her parked in a Dollar Tree parking lot and waited outside for the owner. It was a younger guy who was very nice and I ended up buying the car off him a couple months later. Nobody knows who painted it pink, even the guy he bought the car from didn't know. At the time, my plan was to respray it either black or white but I spent all my money on suspension upgrades, tires, a roll cage and everything needed to make it a rally car. After some time, the name "Pepto" had stuck and many people loved seeing that pink car flying around in the dirt. I will never paint it any other color!
Racing class:
Rallycross – MA (Modified All Wheel Drive)
Stage Rally- AWD OAL (All Wheel Drive, Open AWD Light)
Racing Series:
NASA Rally Sport
American Rally Association
SCCA RallyCross
The FIRM Rall-X Series
Custom bodywork and/or paint: Not yet
Engine:  2.5 NA from a 2004 Subaru Forester
Engine modifications and/or power adders? Not yet but maybe in the future
Cooling setup: Stock location aluminum radiator with stock fans
Horsepower and torque: 165 hp 166 ft.lbs
Transmission: 5-Speed Manual from a 2006 Subaru Forester XT
Front and Rear Axles: AWD 4.44 Ratio
Suspension: DMS 50mm Gravel Coil Overs
Brake Setup: Stock 1993 Impreza front brakes, stock 2000 Impreza rear disk brakes
Wheels & Tires (brands and sizes):  
Method Race Wheels MR501 VT-Spec 15×7 +48
185/65R15 Hoosier Medium Compound Gravel tires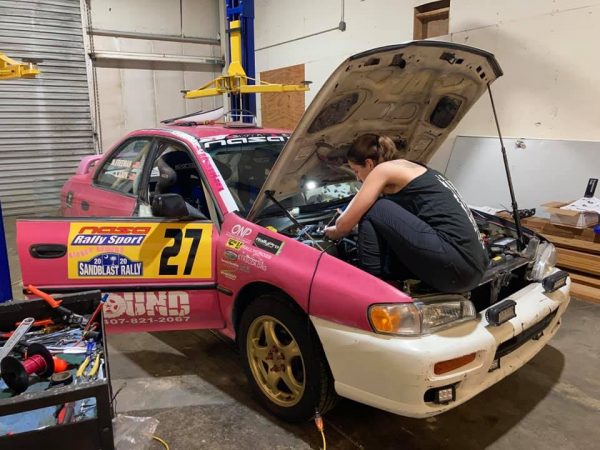 "I never had a hobby before rally; I spent all my time working at a job I didn't enjoy. I was starting to feel like I couldn't find the right path in life. After the first time I raced a RallyCross I knew what path I was taking; a dirt one through the woods", shares Subaru mechanic and rally driver, Mattea Freeman.  
Rally, often interchanged with other terms like stage rally, rally racing, rallycross, pro rally, performance rally and rallying- is perhaps one of the oldest and purest forms of motorsport dating back to as early as 1911.  Rally, or stage rally, is held on private or public roads instead of a dedicated race track.  Teams consist of both a driver and co-driver navigating through forest roads in a race against the clock. It attracts participants from all over the world, across all terrain and takes place during all seasons and weather. Every driver has a story, this is Mattea's.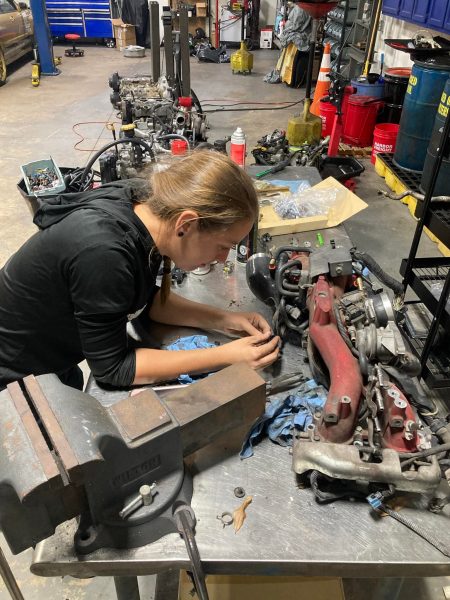 Since 2015, Mattea has worked within the automotive parts industry with dealerships. She was an avid Subaru fan, who enjoyed the Launch Control series from Subaru Motorsports USA, which follows their rally team's journey. In 2016, she was introduced to a team who were building their 1991 Subaru Legacy for stage rally. She spent all of her free time helping the team build their car, and found herself purchasing her own rally car project and entering into a local rallycross tournament.  Within a year of meeting these rallyists, Mattea found herself a seat as a co-driver during the 2017 Sandblast Rally in Cheraw, SC and she was hooked. 
Mattea now competes in the local SCCA RallyCross series, as well as the Rally-X series hosted at The FIRM. While getting into racing was the easy part, it was sustaining a solid reliable race car along the way that presented the most challenges for her. She started out with her daily driven 2001 Impreza RS2.5, on cheap coilovers. Eventually she purchased a dedicated rallycross car, a 1997 Legacy GT and raced it for a season, blowing out stock suspension every race. As she started to get faster, she decided it was time to invest in something more competitive.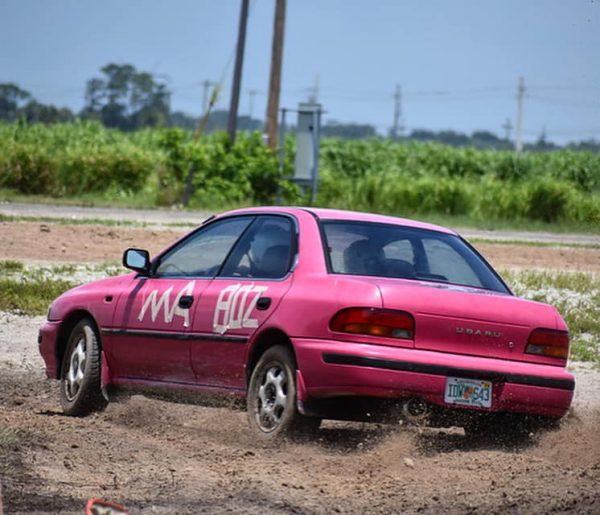 In 2017, Mattea purchased her now, rally car, "Peptobismobile" or "Pepto" for short; a 1993 Subaru Impreza, that needed a ton of work.  Currently, the only original parts left on the car are the body panels, front brakes and the dashboard. She has replaced everything in between; sometimes twice. Over the last few years, Mattea has gone through 3 engines, 3 suspension set-ups and 2 transmissions. Like many novice competitors, money was tight, leaving her to make what little upgrades and repairs she could.  In the beginning, Mattea did all of her own mechanical work in her garage with a Harbor Freight tool set and jack stands. At the time, she had very little mechanical experience and was self taught, relying on YouTube videos, online research and calling friends late at night for assistance over the phone. As time ticked on, she progressed in her career, gaining the appropriate mechanical experience and knowledge to maintain and repair her car correctly. After saving up some money, she said she was "finally able to do it right, and now she [Pepto] is running better than ever!".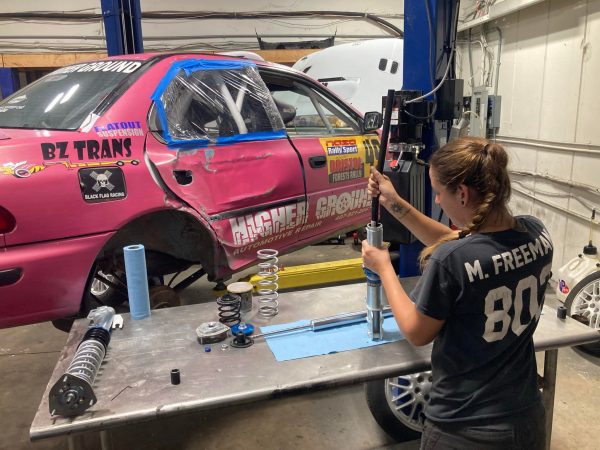 After meeting now boyfriend, Ken Haun, co-owner of Subaru performance shop Higher Ground, Pepto was built into a proper stage rally car over the course of 8-9 months.  The duo debuted the car for their first stage rally together, with Mattea behind the wheel during the Sandblast Rally in 2019, just two years after she debuted as a navigator. "My biggest inspiration would have to be my boyfriend, Ken. He is the biggest reason why I am where I am today. Soon after I first met him I knew I wanted him to be my co-driver in rally. He's taught me to never give up and to fight for what you want in life", she shares.
In June of 2021, Mattea took a big leap of faith in joining Ken and building their own Subaru Specialty Repair/Performance shop [Higher Ground-located in Longwood, GL]. "I order parts, do the invoicing and work on the cars. Mechanically I do everything from oil changes, to break jobs to full engine reseals. We work on anything Subaru from daily drivers to rally cars", she says.  Nowadays, Mattea and Ken maintain Pepto together, making upgrades when they are able and keeping the car running strong. While their shop certainly keeps them extremely busy, they make sure to take advantage of any spare time they have to ensure Pepto is in the best shape possible, and always welcome the company of a good friend and extra hand.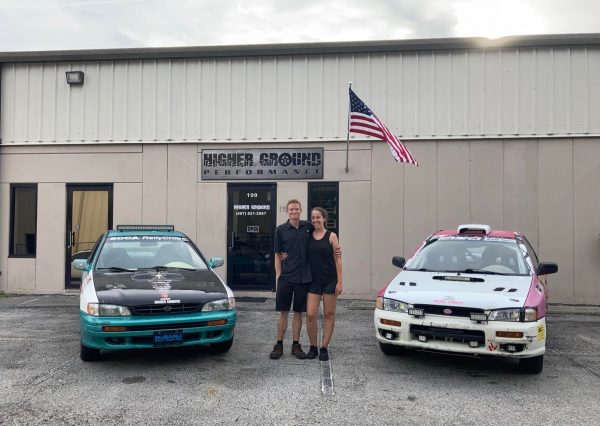 Competing in both rallycross and stage rally events, Mattea enjoys the experience of sitting in both seats.  She has sat in the navigator seat for 5 events and plans to compete in more, explaining that she loves the combination of unpredictability, responsibility and organization. "It's the complete opposite of being in the driver's seat and I love it just the same. As a co-driver so much relies on you. Your driver can complete every stage faster than your competitors but if you're checking in at time control minutes late or minutes early, all that fast driving could be for nothing. I enjoy being in that situation because it requires so much focus and in the end, it's worth it all" she explains.  As she builds on her mechanical expertise and driving skills the joy she gets from driving fast on the gravel keeps her coming back time and time again. "There's nothing better than racing through the trees, jumping the car through the air or coming sideways around a corner with mud flying everywhere. It's exciting no matter what!"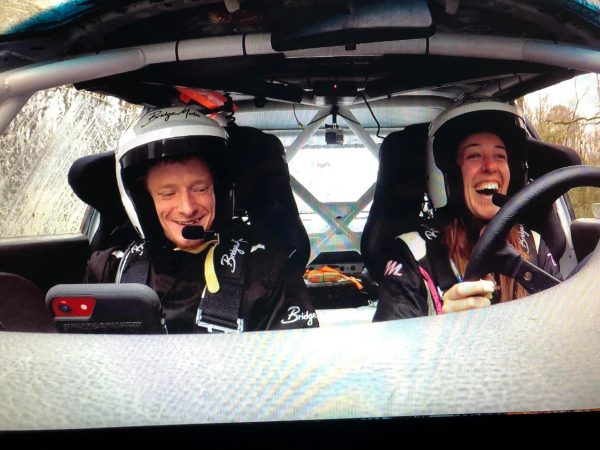 Mattea's passion for racing shows in her smiles and laughter at every event.  She is proud of the little pink car she considers her happy place and all that she has accomplished and she should be!  When asked why she loves her car, she shared-
"I love my car for many reasons. I am in love with the GC chassis (93-01) Subaru Impreza. I got her for such a deal and the day that I bought the car she was in rough shape. I went through so much making the car the way it is today. There is so much history and memories that make Pepto, Pepto. Even though I've replaced so many parts on the car, she's strong and has never left me stranded. I don't own a truck and trailer so most of the time Pepto is driven hundreds of miles, raced and then driven home. Every single time, she gets me home. I consider my car to have a spirit and I see her has a badass fighter that never gives up. I've done some digging on the history of the car and found out that the original owner who purchased her in 1993 passed away due to Breast Cancer. I wonder now if that's how she ended up pink. Her spirit lives on!"
Often, you will see the little pink Subaru coming full sideways out of a turn, launching like an angry little badger or soaring through the air like an eagle on one of The FIRM's rally course jumps.  Outside of stage rally, Mattea shares that participating in our Rally-X series is the highlight of her year. "The courses are long and full of variety; there are surface changes, tight and technical sections through the trees, jumps, slaloms, switchback turns, sugar sand and tarmac. It's a mix between a rally sprint/rally-x, what more could you want? I feel so fortunate to have The FIRM so close to home to get valuable seat time in between stage rallies!"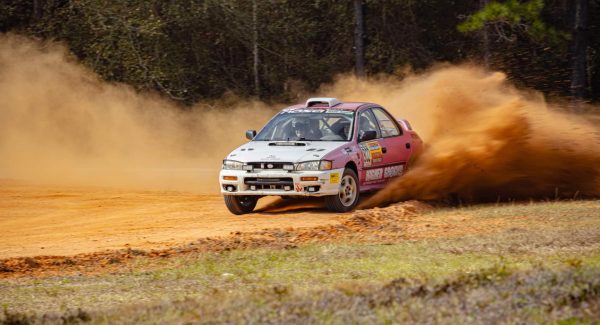 This year, Mattea has already kicked off her season during The FIRM's first Rally-X event in January and will be returning to the rally that started it all next weekend at the Sandblast Rally.  She plans to finish competing in the 2022 Rally-X Series at The FIRM, a few local SCCA RallyCross events, and one of the Middle Georgia SCCA RallyCross events as well.  She has plans to co-drive in the New England Forest Rally later this summer in Newry, ME and has plans to team up with driver and FIRM social media strategist Amanda Skelly.
While being a female in a predominantly male sport and career is something she has grown accustomed to, she encourages other females to get involved in racing, and if they are looking for a "no pressure environment" to come to The FIRM. She explains that "everyone at The FIRM is very welcoming and treats their guests like family. They have a 'no pressure' environment for people of all ages, gender and experience levels and genuinely want everyone to have a good experience along with tons of valuable seat time. They welcome females just the same as a male driver and that's important".  Whether jumping into the navigator's seat, taking the wheel in your own hands, or turning wrenches for a team may seem intimidating, Mattea encourages women to push through their fears and past the stigmas and chase after their goals. "If you have any interest in racing, see it through… it will be worth it! Don't be scared to ask questions or reach out to other female racers in the community. Be yourself, follow your instincts and don't let the barrier of being the minority stop you, no matter who you are!"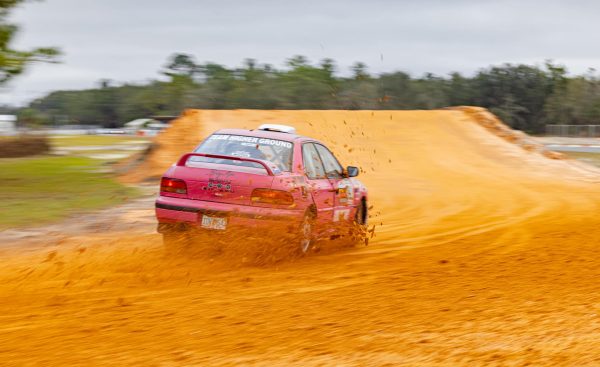 Mattea's story doesn't end here though, and your interest shouldn't either.  There is so much more to be told, and pictures certainly say a thousand words.  But instead of me explaining everything to you, you can see for yourself the special bond shared between Mattea and Ken, or perhaps you can give her Instagram page a follow and ask her how this happened…
Instagram– @mbfimprez  &  @highergroundfl
Facebook– Higher Ground