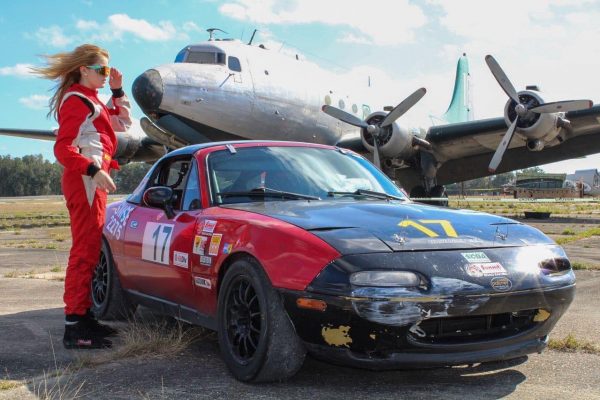 THE DRIVER
Name– Mia LeRoux
Age– 17
Racing Number–  117
Affiliation (if team)- BSI Racing
Sponsors–
Hometown– Ocala, FL
Occupation/Education level: College Student
Years competing- <1
First Race–
5.01.2021 with Novice Permit – Palmer Motorsports Park
9.04.2021 with competition license: Sebring International Raceway, 2 hour endurance race, I got 1st place, my first ever endurance race AND first time racing on my competition license.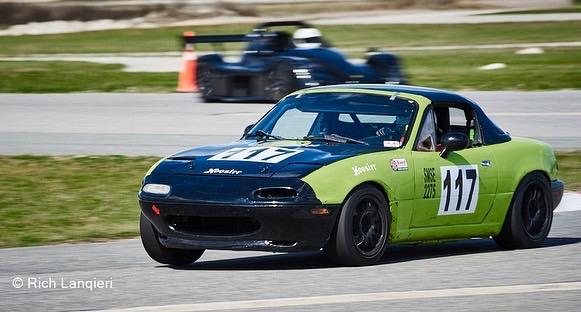 THE CAR
Year/Make/Model: 1991 Mazda Na Miata (1.6 liter engine)
Nickname and reason behind the nickname(if applicable): I call her green machine, only because she is literally lime green and is a machine 🙂
Racing class: "SMSE" (Spec Miata South East)
Custom bodywork and/or paint: "Sublime green" used on Dodge Demon for the body, black hood, roof and trunk. (recently painted. Used to be red)
What engine is in the car?  1.6 liter Mazda
Engine modifications and/or power adders? OEM
Cooling setup: OEM
Horsepower and torque: 114 HP, 100ft-lb
Transmission: Stock 5 Speed
Front and rear axle: OEM
Suspension: Bilstein Shocks
Brake setup: Hawk Performance (Blues)
Wheels & Tires-brands and sizes: Team Dynamics 15×7, 25mm offsets and Hoosier SM 7.5 205/50zr15 Slicks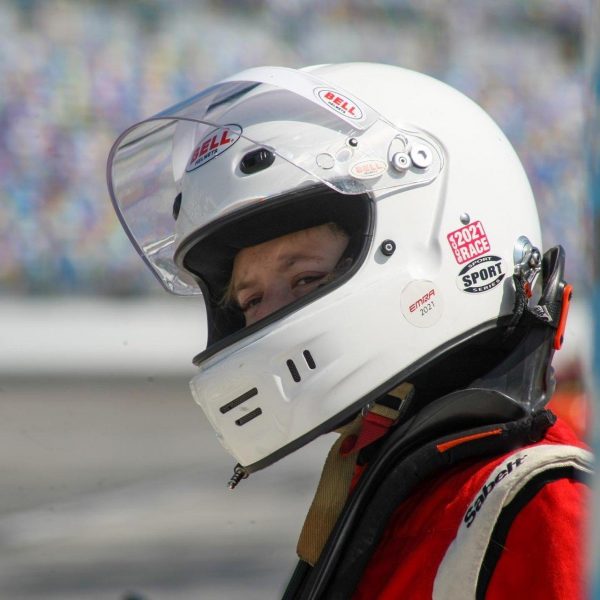 The pandemic swept across the nation, leaving millions of students out of school, focusing on their studies online and spending more time alone. All this extra time gave 17 year old Mia LeRoux a chance to spend some time at the track with her dad. "My dad would still head up to Palmer Motorsports Park in Palmer, MA (we were members there), and one day took me with him. When I would finish my classes, he would take me out in his race car, eventually letting me go out onto the track on my own" she says.
Mia was hooked. She decided to buy a 1991 Mazda Miata and work towards pursuing her competition license with the Sports Car Club of America (SCCA). Receiving this type of license requires attendance at an accredited SCCA driving school, where students must complete several hours of classroom time and short track sessions. Students must also complete 3 full races without contact on their novice license before they can receive a full competition license.
"Racing gave me an outlet of self expression. For years I had this compressed, internalized desire for speed, reading my fathers Carroll Shelby books, eavesdropping during Top Gear Episodes and watching him race. When I tried out racing for myself, I understood the allure and prestige it held. When I'm behind the wheel, I don't have to ask myself who I am anymore- it's a sense of freedom, unexplainable even. Suddenly, time slowed down and I became a driver when I stopped asking myself who I was and started driving like the person I wanted to be", she shares.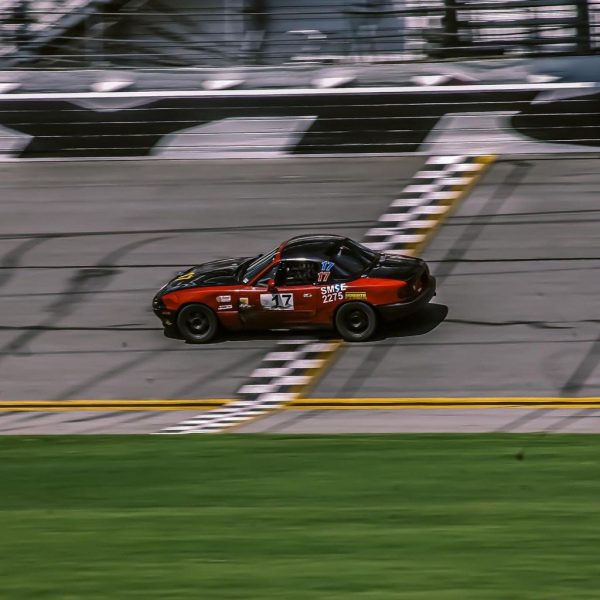 On 1 May 2021, Mia competed with her novice permit at Palmer Motorsport Park. A few short months later, she received her full competition license in September and competed in her first two-hour endurance race at Sebring International Raceway, where she received first in class. Now, she is competing in as many races as she can, and practicing regularly. When asked how many events she has done she says, "honestly, too many to count. I try to get some seat time at The FIRM at least once a week in between races, and when I'm up north, I usually go 2 times a week at Palmer Motorsports Park".
Currently, she competes in the "SMSE" (Spec Miata South East) class in the car she refers to as the "Green Machine". Her plans for 2022 include getting as much seat time that she can, improving overall car control, and picking up speed and momentum with each passing turn. "My car is definitely a quirky car which is one of the things I love about it. Every time I drive it, I learn something new about how to get the most speed out of it. I love that about my car" says Mia. Often, you can see the little green Miata cruising around The FIRM on any given weekend.
But Mia is not your average teenager and this isn't your average race story. She is serious, as so is her family. The LeRoux's left their life in beautiful Rhode Island to relocate to central Florida to give Mia and her Miata the opportunity to race competitively year round and to campaign for a professional series. Her ultimate dream is to pursue racing as a career, but she is just as passionate about motorsports and shares that she " would like to create a career in motorsport, whether it be a driver, or not, I would just like to be in the industry for the rest of my life".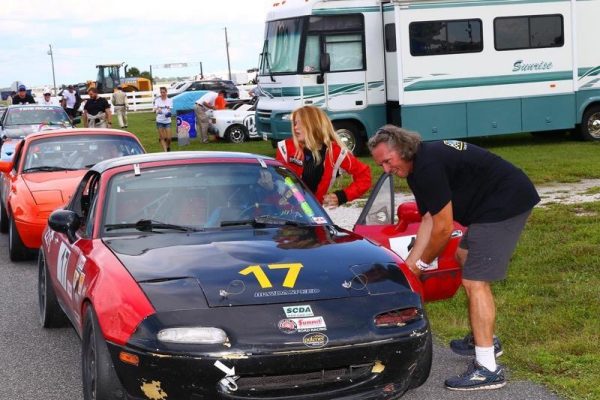 Currently, Mia is enrolled in an associate's program at the College of Central Florida, where she will eventually transfer to USF in fall of 2023. She is a biology major, studying to be a plastic surgeon as a "back-up plan", but her ultimate goal is to get into IMSA (International Motor Sports Association) endurance racing series or another similar endurance series and compete in events like the WEC's 24 hour in Le Mans. IMSA is the gold standard for the North American sports car racing sanctioning body that is under the jurisdiction of the ACCUS arm of the FIA.
In just a short time, she has been making waves. The last several races she has landed herself a spot on the podium and really excels during endurance races. When asked about her biggest accomplishment thus far, she shared her experience during her very first endurance race under her full competition license in Florida at the Sebring International Raceway. This race was also the very first race without her father's attendance and her first time standing atop the podium.
"I was super surprised how short 2 hours feels when you're doing what you love. I discovered my natural talent at endurance races. That race established my identity as a driver [for me]. In a way, it reinvented my driving identity. For a while on my novice permit I wasn't confident in my own abilities as a driver and I used to think I was bad; not realizing that I was new and that I needed to practice patience with myself. That race [at Sebring] showed me that I was capable of performing competitively in the racing world and that my dream was totally attainable for me" she says.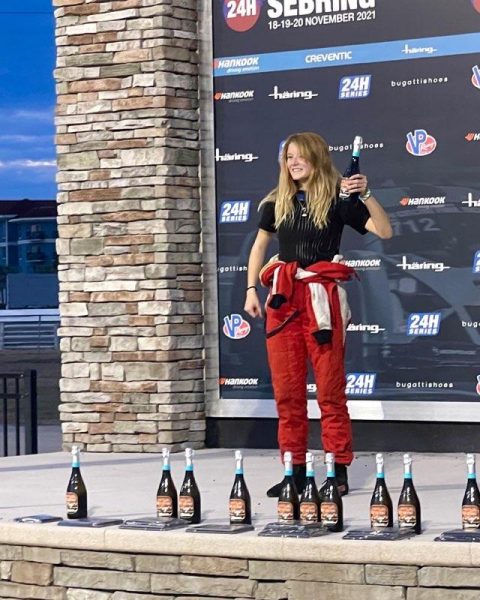 With some of Mia's biggest inspirations in driving being Lynn St James and Lella Lombardi, it's no wonder she is hitting the ground with all 4 tires spinning. She has found that there is a place for women in motorsport, "although both are female drivers, that does not define them. At the end of the day, they are drivers, regardless of being female". During this day and age, Mia shared that she has been fortunate, because as a young female driver, she has received a ton of support and encouragement. She expressed her love for The FIRM and calls it her new "home track".
"One of the best things about being a young driver at a track like The FIRM is that everyone is willing to help and support you along the journey. Many of the more seasoned drivers are able to help you improve your driving and provide overall advice for you as a driver. The racing community is super supportive of young drivers and truly fosters a welcoming experience for them" Mia says.
She continued to share that she chose The FIRM for her rack of choice because "the Drivers Club is a great opportunity for drivers who really are looking to get tons of seat time for a reasonable price. I'm able to go driving once a week at least and get nearly 4 hours of track time every time I go. As a driver who is relatively new to racing, my success is dependent on my experience behind the wheel. The FIRM offers me the hours that I need to refine and improve my driving style and the facilities to ask for help when I need it. The off track support team there is super insightful and provides me with the contacts and advice I need within the industry to be successful. I truly believe that my success within this past season was directly correlated to my practice at the FIRM".
Mia has passion, dedication and enthusiasm to drive, and she will be one to watch! She encourages other female drivers to "Just jump into it!! The industry may lean more towards the male side, but your gender really doesn't make a difference at the end of the day. If you want to be fast, just get out there and do it! Race cars don't care who drives them, they just like to go fast!"