THE DRIVER
Name– Molly Austin
Age– 46
Affiliation– Happy Trails 4×4
Hometown– Originally from North Carolina but really grew up in the Atlanta, GA area.
Occupation– Co-Owner, Happy Trails 4×4
Years in the Industry: 14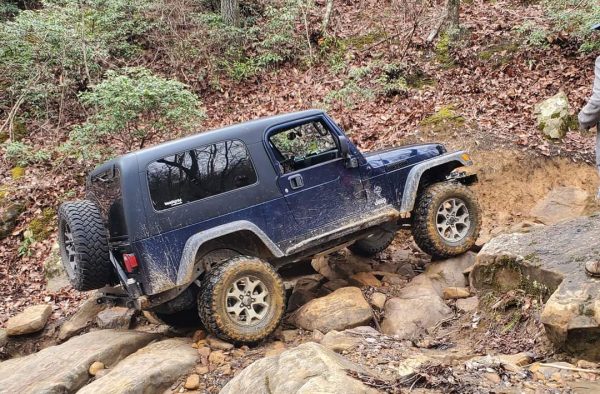 VEHICLE SPECS
Year/Make/Model: 2006 Jeep Wrangler Unlimited
Custom bodywork and/or paint:
GenRight Highline Aluminum Flares Front & Rear
American Expedition Highline Hood
GR8Tops
Engine: 4.0Ltr Inline 6cyl.
Engine modifications and/or power adders: SRT4 Injectors & Throttle Body Bored to 62mm
Cooling setup: Factory with Silicone Hoses
Horsepower and torque: 190 horse 235 torque
Transmission: Manual NSG370 Transmission & 241OR Transfer case
Front and rear axle:
JK Dana 44 Front & Rear Axles Trussed with 35 Spline ARB Lockers & 4.56 Gear Ratio.
RCV in the front and 10 Factory shafts in the rear
Suspension: Suspension upgraded to Rusty's Off Road Long Arm with Triangulated Rear.
Brake setup: JK Brake System
Wheels & Tires, brands and sizes:
Mopar Bead Lock Wheels
BFG KM# 35 inch Tires
Extras:
Currie Anti-Rock Sway Bars Front & Rear
Rock Hard 4×4 Rear Bumper & Tire Carrier
Rock Hard 4×4 Sliders
Warn Synthetic Winch
Co-owner and Founder of Happy Trails 4×4, Molly Austin, brings the off-road experience a little closer to the community by empowering females through educational events. "I love seeing all of the ladies enjoy their 4wd off road and having the confidence to do so. I also love driving!!!"
Happy Trails 4×4 is a Jeep specific shop located in northeast Florida (Atlantic Beach). They build, upgrade, modify and repair Jeeps, covering just about everything from V8 swaps, superchargers/turbo kits, regearing axles, upgrading suspensions and basic service work. Established in 2007 in Jacksonville, Florida, Happy Trails 4×4 originally catered to building Jeeps for local Jeep dealerships, but due to high demand they relocated to a larger facility in 2013. " I wanted to get out of the corporate sales life. I was in the medical industry on the sales side out of Atlanta, GA for a few years. It was time to make a change, so I along with [husband] Melvin Petiet opened up Happy Trails 4×4, a Jeep shop and the rest is history," Molly says.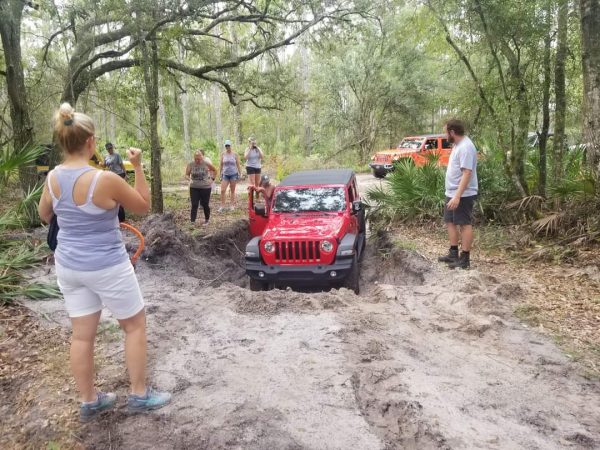 In addition to the mechanical offerings of the shop, Molly hosts educational classes specifically for women called GirlsOnTrails. They also offer co-ed and one-on-one classes to educate people on how a 4wd system works, recovery, etiquette, trip preparations, safety, driving technique and much more. Introduced to The FIRM from Krawl'n for the Fallen, a local off-road event honoring fallen police officers, Molly brought the idea of hosting her own event there as well. In 2021, Happy Trails 4×4 began working with The FIRM and debuted a special event for women – Girls on Trails. "I love coming to the FIRM because it is a safe controlled environment where we can provide the best quality educational experience for our participants. The facility is clean and they have a nice class room for a working lunch, and the staff is so wonderful to work with!"
Not only do they host their own events, Molly shares that they attend a lot of local charity events, as well as attending events as a vendor sponsor. Some of the events you can find them at include Jeep Beach in Daytona Beach, Jeeptoberfest in Ocala, and Special Olympics Jeep Poker Run in Clay County, Florida.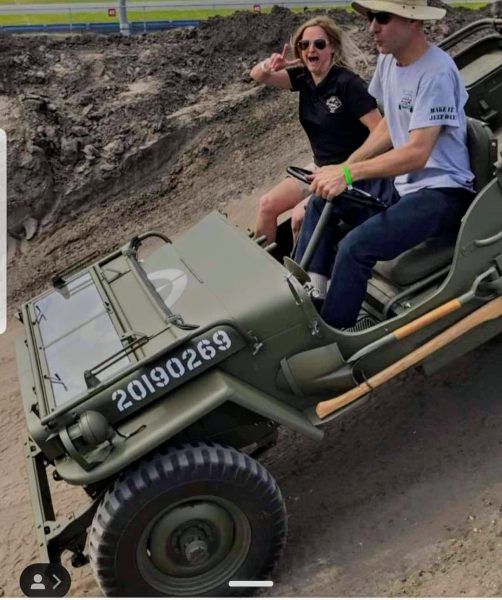 Molly has always held a passion for vehicles and considers herself a gearhead. " In high school I worked for an automotive shop that worked on Ford Pantera, Lotus, Ferrari, Mazda RX7 and other high end cars. My adult life I was in the medical industry in the outside sales side of things. Lots of miles & traffic over the years, which sent me back to the automotive world where I belong". Now, she is thriving in the off-road community and sharing her passion with others.
An avid outdoors enthusiast and animal lover, Molly's family consists of "9 dogs, 2 cats, 2 ducks, 1 leopard gecko, 1 frog & more fish than we can count right now" . It's not surprising that she is also on the board for the Wildlife Rescue Coalition of Northeast Florida. She also "loves sporting clays and I am a member of Bells with Shells here in Jacksonville".
While being a female in the automotive industry has not always come with ease, she feels that having the confidence, knowledge, experience and ability to ask the right questions has proven she is just as capable as the others in the shop and has resulted in much respect from customers. "In the beginning, I remember many times where a man walks into the shop and asks to speak to a mechanic or some other terminology to get around talking to me. I would just smile and say I know enough to be dangerous so how about giving me a shot". While she admits her true inspiration and support over the years has been her husband, Molly shares with us some of the ladies in the industry that she admires. "Nena Barlow is one of the main ones. She just won 1st place in the Rebelle Rally, which I dream of participating in one day. Charlene Bower is another female leader in our industry. I actually ran into her on the trails at Crown King, Arizona in our 1947 Flat Fender participating in the Go Devil run 2021. And Jessi Combs of course!"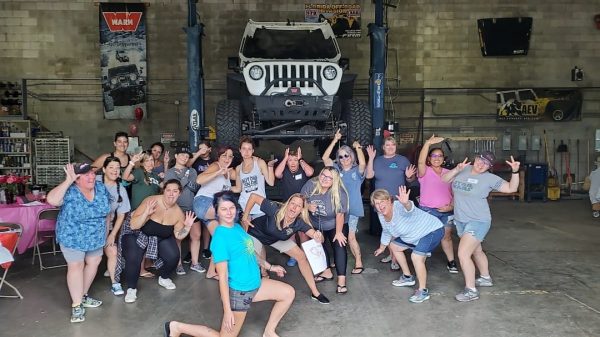 Molly and Melvin are both Jeep owners and enthusiasts, they have multiple Jeeps, each with their own little history and story to tell. As Happy Trails 4×4 continues to thrive, the shop has plans to spotlight American manufacturing. They are preparing to tour the country and visit manufacturers in person in their 2006 Jeep Wrangler Unlimited this September. They are currently building the Wrangler and will be doing testing on various courses in August prior to their departure for their "Made in America Tour".
To follow along on their upcoming adventure, get involved in their events, or to inquire about some mechanical work on your Jeep make sure to follow them on social media. You can also visit their website and sign up for their newsletter here- https://www.happytrails4x4.com/
Facebook
Instagram
Twitter
YouTube