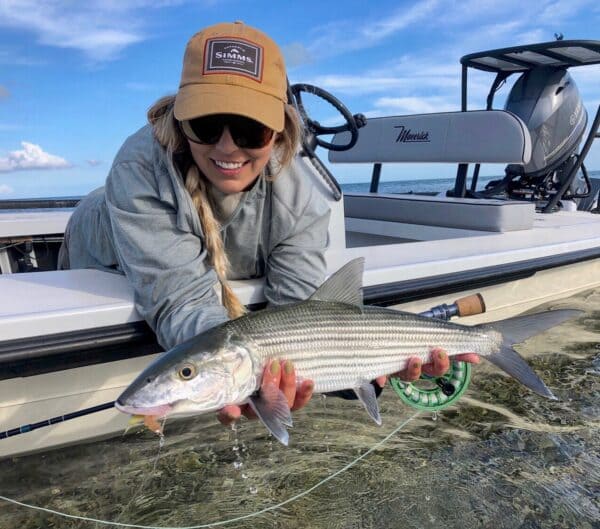 THE DRIVER
Name– Alissa Vinoski
Age– 32
Affiliation – Southeast Overland and Outdoor Expo (SEOO)
Hometown– Tampa, FL
Occupation– CEO/Founder of the Southeast Overland and Outdoor Expo as well as Boat and Yacht Sales
Years in the Industry– Outdoor/Trade – 10 years, Overlanding – 7 years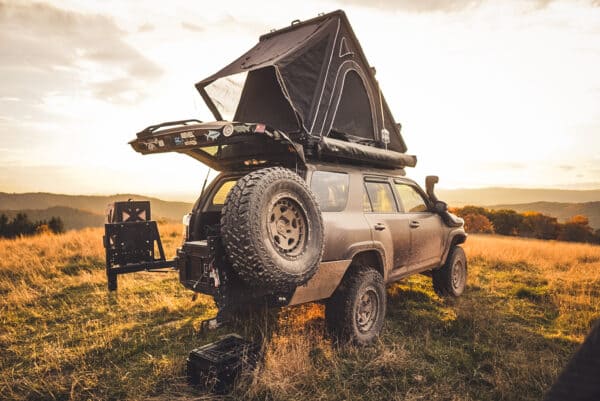 VEHICLE SPECS
Year/Make/Model: 2017 Toyota 4Runner SR5 4×4
Nickname and reason behind the nickname(if applicable):  The Tortoise… it's not fast, but it can get places and will last for a lifetime. I also have a Tesla M3LR, and that vehicle is named the Hare…get it? 🙂
Custom bodywork and/or paint:  Full Vinyl Wrap – 3M Wrap Film Series 1080 in Matte Brown Metallic
What engine is in the car?  STOCK (4.0-liter V6 engine)
Engine modifications and/or power adders? N/A
Cooling setup: N/A
Transmission: STOCK
Differentials: East Coast Gear Supply Re-gear to 4.88
Front and rear axle: STOCK
Suspension –
Front: Dobinsons (model): C59-352 – 3" Lift, Heavy Load Springs/Long Travel Shocks and SPC Adjustable Upper Control Arms
Rear: Dobinsons (model): C59-701V 3" Lift Long Travel, Variable Rate Springs/Long Travel Shocks
Brake setup: Stock  – on the list to upgrade
Wheels & Tires, brands and sizes:
Fifteen52 Model: Turbomac HD Block Bronze
Front (size): 17×8.5 PCD: 6×139.7   ET:0   Bolt Pattern:6×5.5"   Backspacing: 4.75"
Rear (size): 17×8.5 PCD: 6×139.7   ET:0   Bolt Pattern:6×5.5"   Backspacing: 4.75"
Spidertrax 1.25" 6×5.5 Aluminum Wheel Spacers – WHS007
Tires: Cooper Tire Discoverer S/T MAXX
Front (size): 285/75/17
Rear (size): 285/75/17
ALL THE EXTRAS:
​​Headlights (brand/model): XenonDepot H11: XTR HID KIT 5,000k
Fog Lights: Baja Designs Amber Squadron-R Sport Fog
Rock Lights: 4x rock lights, Baja Designs Universal LED rock lights
Chase Lights: Dual Baja Designs Amber S2 Sport Driving/Combo
Festoon Xtreme LED Interior Lighting (Dome, Trunk/Cargo)
T10/194 LED Interior Lighting (Map, Door, Vanity)
Rough Country MLC-6 Universal Multiple Light Controller
Engine Bay Lighting
Taillights (brand/model): Stock taillights BUT w/ aftermarket reverse lights built into C4 rear bumper (Dual Baja Designs S2 Pro/Wide Cornering)
Light bar (brand/model): Baja Designs Amber S8 30" Driving/Combo (location): Front Bumper
Winch (brand/model): Smittybilt X20-10 Comp Gen2 Waterproof Winch with Synthetic Rope and Aluminum Fairlead – 10,000 lbs.
Storage (brand/model): Dual 5g jerry cans to carry water (location): Rear bumper
Armor: C4 Fabrication/Overland Series Front Bumper
C4 Fabrication Dual Rear Swing Out Overland Series Rear Bumper with Tire Carrier/Jerry Can Carrier
iPad mount with Gaia Maps/Avenza Maps
Frontrunner Outfitters Wolf Packs x4 located in rear cargo area
Midland Radio MXT275 MicroMobile GMRS and for in a pinch or if others don't have comms, I also have: X-Talker T71VP3 Two-Way GMRS Handheld
Power sources: Solar charged…EcoFlow DELTA 1300 Portable Power Station, Dometic PLB40 Portable lithium battery 40 Ah, FlexoPower Mojave-150w Foldable Solar Panel
ARB Safari Snorkel
Roof Rack: Front Runner Outfitters Slim Line II Roof Rack with wind farin
Roof Top Tent: Cascadia Vehicle Tents  – Double Channel Mt. Hood Small (50") w/ Rack
Maxtrax Xtreme Recovery Boards – Tent Rack mounted with locking pins
Fridge: (Dometic CFX3 45 for short trips, SnoMaster Classic Series CL60 for extended trips)
Awning: Front Runner Outfitters Easy-Out – Passenger Side
On-Board Air: ARB High Performance Twin Compressor 12V – CKMTA12
Fasterflate Multi-Tire Inflation/Deflation System
Gobi Drivers Side Rear Ladder – GT4RLAD-5
Front Runner Outfitters Under Rack Mounted Pro Stainless Steel Camp Table
CVT Pop Up Portable Shower
Buddy Heater Base Camp Hot Water Heater/Shower – XCW20
If it is one thing we have all experienced a little more of over the last two and a half years, it's taking advantage of being in the great outdoors. While some of us have enjoyed a little more camping, others have taken the experience to an entirely new level.   Earlier this spring, The FIRM played host to a brand new event that promoted the outdoors and a new way of living and exploring, different from our typical off-road training and experiences on site. 
The Southeast Overland & Outdoor Expo (SEOO) is the first of its kind event in Florida, bringing exhibitors, vendors and the overland and off-road community together to one venue. You can expect interactive and informative seminars, educational classes, on-site multi day camping, an off-road course to test your skills, vehicle displays, vendor booths, food trucks and raffles.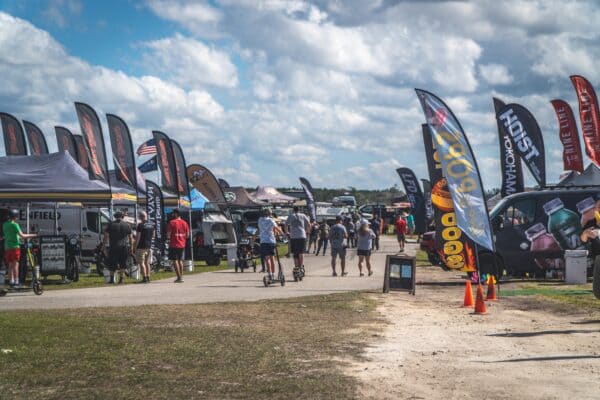 But what exactly is Overlanding, and how is it different from off-road or camping?
Overlanding is motorcycle or vehicle-dependent adventure travel, both on road or off-road, that focuses on being self reliant. Your vehicle is the primary mode of transportation and living, and all gear and supplies that you need are carried with you. The journey and exploring is the central goal, and the destination is typically remote. ​​
Off-roading is more frequently used to refer to more extreme versions of off-roading, such as four-wheeling and rock-crawling. Off-road vehicles are typically modified to navigate technical and intense terrain, where-as overland vehicles are built to accommodate living – and while capable off-road, would generally have weight and balance issues when dealing with extreme terrain. 
In the fall of 2020, Alissa Vinoski, an avid outdoor and overland enthusiast, decided it was time to bring something special to the southeast. What started out as a few friends brainstorming ideas to host a fun overland and off-road community event, turned into a weekend long event with sold out camping spaces, 30 vendors and nearly 2,000 attendees, with their furthest guests from Colorado!  Alissa knew the event would grow, resulting in the events moving to The FIRM.  This past year, the event drew 60 vendors, roughly 3,000 attendees, and 20 volunteers from all across the Southeast, even as far north as Maryland and as far west as California. 
"We offered over 20 instructional seminars, a huge raffle with prizes from every vendor, an obstacle course, and an off-road trail. There are still some changes and improvements to be made for 2023 that are already in the works, but I anticipate the event will continue to grow…and of course, I will continue to make adjustments and listen to suggestions/feedback from vendors, attendees, and the volunteers who help to make it all happen!"
Moving the event to a new location was no small task and Alissa was relieved to find the accommodating layout of the venue, available obstacle course and staff. 
"I enjoyed working with the staff the most – the instructors, management and the support team on site were so accommodating. They knew exactly what we were going for with this event and our off-road features. The professionalism was much appreciated, but even more so was their ability to roll with controlled chaos that comes with hosting a growing event, especially at a new venue" she says. 
Alissa has quite the unique background, ranging from experience as a zookeeper/animal trainer to being a captain of a fishing charter to sales management; she has been in the outdoor/trade industry for a decade, and has been involved in overlanding for the last seven years. With her successes in the fishing community, she holds a number of angling world records, she has co-hosted or been a featured guest on multiple angling tv shows, and has been published in a number of magazines and books; as well as participated in talk radio and podcasts on the subject of fishing. As a young girl, she remembers spending a lot of her time playing in the woods of the South Carolina low country.  Her father and papa were both very outdoorsy, and nature has been what she explains as the centerpiece to her life. "My dad and my papa were both very much into fishing and hunting, and that has always left me with a desire to be on the water or in the woods. I truly believe that's why I have the vehicle I do – I built my 4Runner to serve two purposes – to get me off the grid, or to the nearest boat ramp with my skiff in tow" she explains.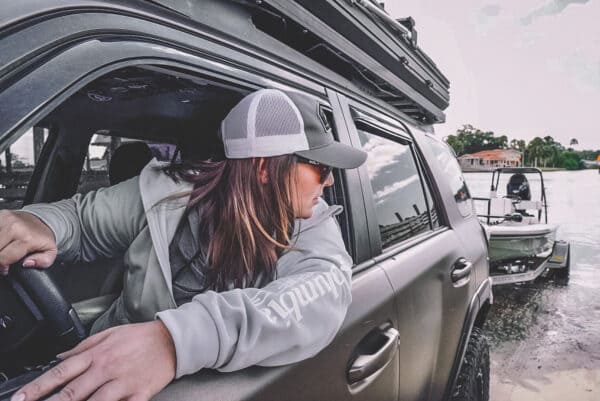 Through adulthood she carried her passion for the outdoors and found a variety of ways o incorporate that into her employment. "Starting in 2017, I was the Southeast US Regional Sales Manager for a company called SPOT, a satellite based communication and rescue device for off the grid adventurers. That job had me logging a ton of miles across NC, SC, GA, TN, MS, AL, and FL – during a portion of this time, all of my personal belongings were in storage and I spent most of my time traveling out of my 4Runner. I was on the road more than I was "home", and working remotely. That job brought me to many outdoor trade shows, a number of which were overland related. Every occupation I've had has been in the outdoor field, including my most recent career move in boat and yacht sales – I've been doing that full time for about two years and it's been an absolute blast", she shares.
In addition to hosting her own event, Alissa tries to attend and support other events as often as she can. She has attended events including  the Roof Top Tent Rally, local small events within the state of Florida, the Overland Expo, and most recently the Yota Summer Splash in Tampa. Now that the SEOO Expo is entering its third year, they have become one of the newest sponsors for the Yota Summer Splash and they intend to continue to support other events by becoming a sponsor, vendor or exhibitor.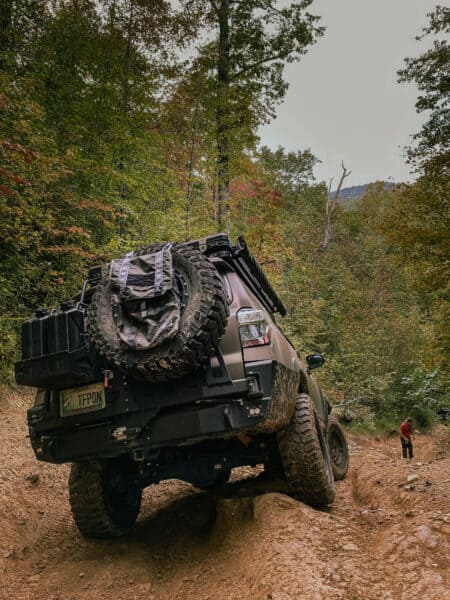 From the woods to the water, Alissa has a lifestyle just as unique as her event. The remainder of 2022 keeps her busy as she prepares for the 2023 SEOO Expo.  You can find her later this fall in the Smokey Mountain/Blue Ridge Mountain area with several overland friends who travel across GA, NC, TN, VA and WV during the changing of the leaves to fall colors.
Alissa's advice to another woman or young girl interested in overlanding?
Go for it – the best part about overlanding is that you can be as private or as social as you'd like. You are completely in control of your surroundings, if you are uncomfortable with a location, you can keep driving. There are a ton of incredibly strong, independent and knowledgeable women in the overlanding community – I've met many at events just like the SEOO Expo. The female demographic is growing within the overland world, and it's awesome to see. The only practical advice that I have is to be safe and prepared – this means carrying personal protection in whichever method you feel comfortable, making sure you have a way to communicate with friends and family (i.e. a satellite messenger if out of cell service), leaving a general game plan of your route/timeframe/campsites with friends and family, and having the necessary equipment and skills to get yourself out of a stuck situation, should the need arise. Educational classes, seminars, and hands-on training are available through many avenues, and can certainly help with confidence and application in a real world scenario.
How do you get involved with SEOO?
If you are looking to get involved with the organization, the SEOO Expo is always looking for volunteers to assist with a variety of different roles at the event – they have something for everyone and we appreciate many different skill sets. If being an instructor is up your alley, you can contact Alissa personally at [email protected]
If you'd like to attend as a guest, you can learn more about tickets and how to attend on their website – www.seooexpo.com. They are also accepting new vendors to join their growing list of incredible exhibitors for their 2023 show. There will be a link to inquire under the "Exhibitor Information" tab.
You can check out the event and follow along with Alissa's adventures here-
Facebook–
www.facebook.com/seooexpo (event)
www.facebook.com/tampaflygirl (personal)

Instagram-
@southeast_expo (event)
@tampaflygirl (personal)
Website–
www.seooexpo.com (event)
www.tampaflygirl.com (personal)